Terrorism experts cast doubt on Brazilian group's pledge to ISIS on social media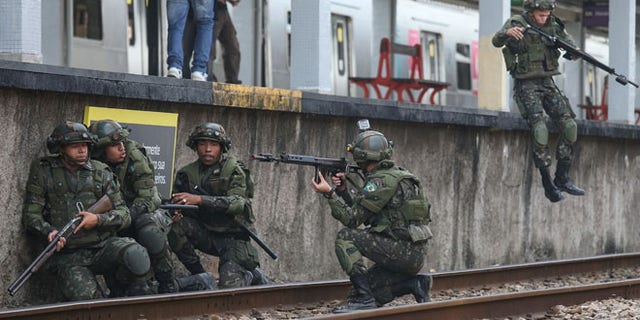 NEWYou can now listen to Fox News articles!
Terrorism experts have doubted the credibility of a Brazilian group's pledge of allegiance to ISIS, arguing that it's probably ISIS social media activity aimed at scaring citizens before the Olympic games.
Through a messaging app called Telegram, the group Ansar al-Khilafah Brazil, pledged its allegiance to ISIS and its leader Abu Bakr al-Baghdadi on Sunday. Ansar al-Khilafah Brazil disseminated ISIS propaganda in Portuguese and expressed its commitment to "wage jihad against the enemy of Allah," reported ABC News.
Although it is unknown whether the group exists, terrorism experts have expressed skepticism.
John Horgan, a professor at Georgia State University told ABC that ISIS is quick to take advantage of any opportunity, and, given security concerns in Rio, the Olympics are a prime target.
J.M. Berger, co-author of "ISIS: State of Terror" told the network that the group's "Telegram channel appears to be the work of an ISIS social media activist rather than reflecting any bricks-and-mortar initiative."
Moreover, ISIS has little influence in Brazil, a country with few Muslims. According to the Soufan Group, only 3 Brazilians have left the South American nation to join extremist groups, compared to 1,700 people who have travelled from France and 250 from the United States.
According to Matt Olsen, the former director of the National Counterterrorism Center, Islamic terrorist groups have not had a large impact in the region. However, he expressed concern over the growth of extremism.
On Thursday, the same app was used for another extremist call to action in Rio proposing attack places, methods and targets.
In May, the U.S. State Department Overseas Advisory Council released a report outlining security concerns in Rio, which did not include terrorism. And as of June, "There was no credible ISIS-related threat to the 2016 games," according to ABC.
Notwithstanding, U.S. terrorism officials have argued that all threats should be taken seriously.
"It's not impossible, but ISIS has other areas in the world where it is much easier for them to operate," a former U.S. terrorism official told the network.
The State Department's Bureau of Diplomatic Security, which is tasked with ensuring the security of American athletes and tourists at the Olympic Games, said this terrorist threat is an "intelligence matter," and made no further comment.
Brazilian authorities have stated that terrorist attacks at the Olympics are a big concern due to ISIS' tendency to target innocent civilians.