Terror Attack in Turkey Kills 1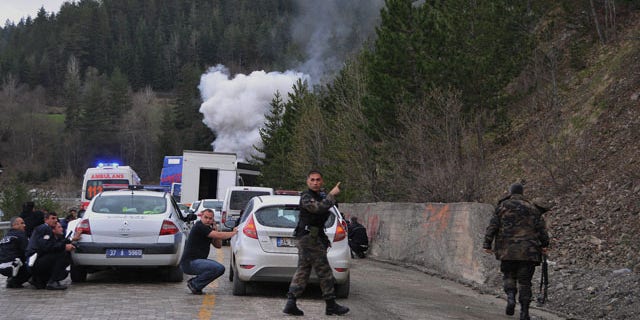 ANKARA, Turkey -- A policeman was killed and another wounded on Wednesday when Kurdish rebels attacked their vehicle following an election rally by Turkey's prime minister.
There was no claim of responsibility, but Prime Minister Recep Tayyip Erdogan called the attackers "separatists," a reference often used by Turkish authorities to refer to Kurdish rebels who fight for autonomy in the country's southeast.
Erdogan had earlier left the rally in the northern city of Kastamonu by helicopter. Speaking in Amasya soon after, he said he would not allow the country to be divided.
"These vile hands, these dark minds that do not believe in democratic struggle, these terrorists, these separatist forces that know they cannot win at the ballot, think they will reach their ends through such attacks," a clearly angry Erdogan said.
"We will not let anyone divide this land. My mighty nation will never yield to bandits."
An eye witness told NTV television that the police vehicle, escorting a bus carrying journalists, turned into a "ball of fire" after an explosion. Reports said the vehicle was hit by a grenade, but the governor's office said the car's gasoline trunk exploded as a result of intense gunfire on a narrow road on Mt. Ilgaz.
"It is a very dangerous incident which we must take very seriously," President Abdullah Gul said. "Turkey will never bow to terrorism."
Opposition leaders united in denouncing the attack ahead of national elections on June 12.
Reporters at the scene said anti-terrorism squads, brandishing automatic rifles, pursued the attackers through nearby forests thick with pine trees, as smoke billowed from the vehicle and the sound of gun fire echoed through the mountains. Helicopters ferried special police squads to the area from the Turkish capital, Ankara.
State television said the rebels have lately been active in the area -- hundreds of kilometers (miles) from the rugged southeast, the traditional battlefield of Kurdish rebels and troops.
Authorities said the rebels were trying to show muscle in areas outside the southeast as they wither under military operations.
The attack came hours after funerals for seven Kurdish guerrillas turned violent in the country's southeast when angry mourners attacked police with knives, stones and firebombs. At least six policemen were injured in the clashes in the cities of Diyarbakir and Hakkari, local authorities said.
The conflict has killed tens of thousands of people since the rebels took up arms for autonomy in 1984.