Tensions increase between Vietnam and China over oil rig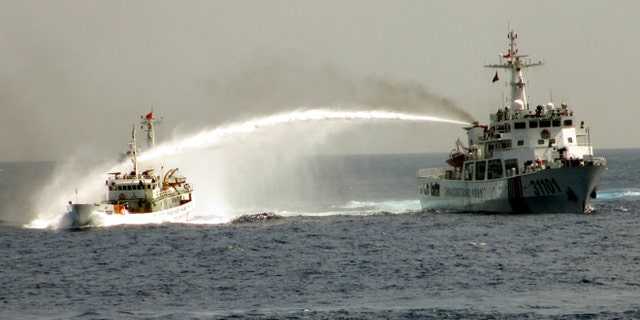 Vietnamese anger toward China is running at its highest level in years after Beijing deployed an oil rig in disputed waters as naval ships from both countries engage in a tense standoff near the rig off the Paracel Islands in the South China Sea.
The heightened tension comes less than a week after President Obama visit the region where he, in part, cultivated ties with countries in the area.
The Wall Street Journal reported that even prior to the standoff, Vietnam has been beefing up its military by investing in advanced military capabilities, with a special focus on its navy.
[pullquote]
"Vietnam has ordered these [new capabilities] as a deterrent to China and to show, if push comes to shove, that they'd be able to give China a bloody nose," said Ian Storey, a senior fellow at the Institute of Southeast Asian Studies, a Singapore-based think tank, told The Journal
The report said the country's new submarine fleet, comprising six Russian Kilo-class submarines, will be the jewel in the crown of Vietnamese defense. But only two of the six boats have been delivered so far and will take some time to be fully operational.
The two Asian nations have a history of conflict going back 1,000 years, and the streets of Vietnam's cities are named after heroes in those fights. In the more recent past, the navies have twice had deadly engagements in the South China Sea. There was a brief but bloody border war in 1979. All have a created a deep well of mistrust toward China among ordinary Vietnamese.
"It's fair to say both Vietnam and China have rights to claim sovereignty over the Paracels," America's top Asia official, Assistant Secretary of State Danny Russel, told The Journal. "It is not for the U.S. to say which position is stronger. It's within the rights of the United States and the international community to call all parties to address the dispute in a peaceful way."
Yet the two countries share a Communist ideology and close economic ties, making the China-Vietnam relationship highly sensitive topic. The latest round of tension — the worst since 1988, when 64 Vietnamese sailors were killed in a clash with the Chinese navy — had led to fresh and awkward questions over that relationship, a normally taboo topic in the state-controlled media.
"It's time for the Communist Party of Vietnam to reconsider all its policy toward Beijing ... Vietnam should immediately abandon Beijing as an economic and a political model," Huy Duc, one of Vietnam's best known bloggers wrote in a recent post. "Hopefully, the drilling rig 981 incident will awaken the Communist Party of Vietnam to be on the side of the people and drive out the Beijing expansionists."
Vietnam's first response to the rig's deployment close to the Paracel Islands was to send ships to try and stop the rig from starting drilling, and demand Beijing withdraw. Each side accuses the other of ramming their boats. China has said it is staying put and called on Vietnam to pull back its ships.
Vietnam now finds itself pleading its case internationally but without any kind of solid alliance with a powerful country that that might make China listen more carefully. It can't afford to do anything that would severely rupture ties with Beijing because it is the country's largest trading partner.
That argument doesn't wash with everyone, however.
"You can't use the importance of the relationship as an excuse not to do anything," said Nguyen Quang A, a respected academic who has been a frequent attendee of anti-China protests in the past. "I think what they did with sending the coast guard vessels was OK, but they have to be much stronger on the diplomatic and legal field."
China has announced the rig will stay in the area until August, meaning tensions are likely to remain until then.
Experts say the incident might push Vietnam closer to the Philippines, which also is engaged in territorial disputes with China, or toward the United States, which wants closer ties with Vietnam as part of its efforts to counter Chinese influence in Asia.
Last year, the Philippines filed a case against the Chinese claim at a U.N tribunal, to the displeasure of Beijing. Many analysts believe that Vietnam will now be seriously considering filing its own appeal or joining Manila, opening a diplomatic and legal front against Beijing.
"That's the one arrow left in their quiver other than shooting," said David Brown, a former U.S diplomat and Vietnam observer.
The Associated Press contributed to this report