Tensions between Italy, France heat up as migrant ship diverted to Spain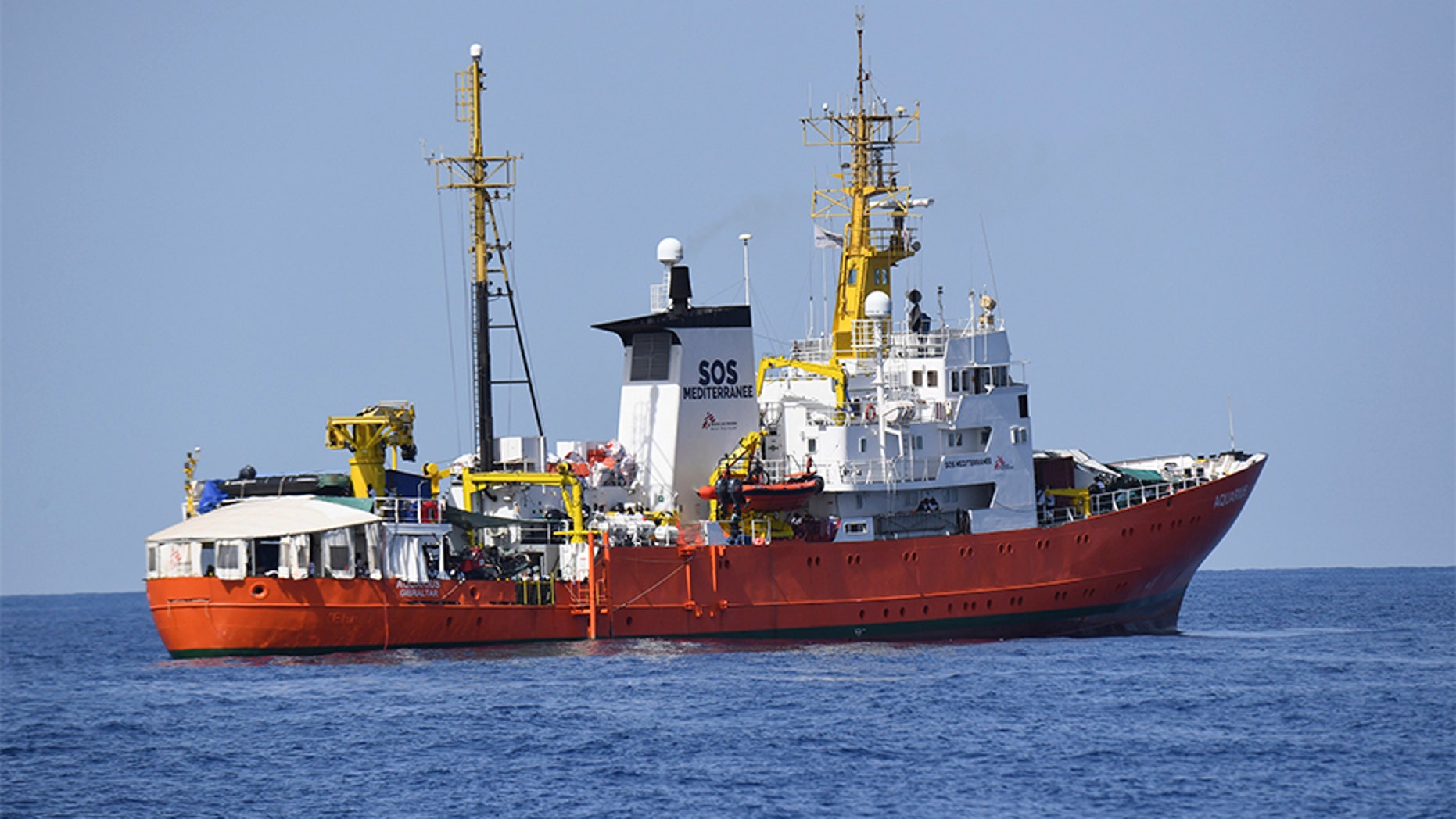 Italy summoned the French ambassador and demanded an apology as it ramped up its standoff with Paris over migration on Wednesday.
The new populist Italian government challenged France to take in more asylum seekers after French President Emmanuel Macron accused them of cynical, irresponsible behavior for refusing entry of a rescue ship with hundreds of migrants on board.
In addition to summoning the French diplomat, Italy also canceled a planned between the countries' finance ministers and warned that diplomatic relations have been compromised.
"I speak in the name of a government but I also have the aim of speaking for a people who have nothing to learn from anyone about generosity, volunteerism, welcome and solidarity," Italian Interior Minister Matteo Salvini said to applause in the Senate chamber.
Italy has faced condemnation — and praise from others — for turning away the Aquarius rescue ship over the weekend, which was stuck in the Mediterranean Sea for days with 629 migrants onboard. Rome argues other European countries must step in, and that its passengers were never in danger.
Two Italian naval vessels on Wednesday were escorting the ship to Spain after the Socialist government of new Prime Minister Pedro Sanchez stepped up and offered the Aquarius safe harbor. They are expected to arrive in Valencia on Saturday night, said Sophie Beau, co-founder of the charity SOS Mediterranee that operates the ship.
"It's a relief for everyone, our teams and of course above all for the survivors to know that they are finally allowed to head to a safe port in Europe," Beau told reporters in Marseille, France.
Blasting France, Salvini said Macron has taken in only a fraction of the 9,816 migrants his country had pledged to welcome under a 2015 European Union relocation plan to relieve frontline countries Italy and Greece of the burden of caring for newly arrived migrants. The EU plan largely flopped, with only a handful of countries taking in their share: France took 635, the Associated Press reported, citing EU figures.
"So I ask President Macron to pass from words to action and tomorrow morning, welcome the 9,000 France promised to welcome as a sign of concrete generosity and not just words," Salvini said.
The standoff over the Aquarius appeared a clear tactic by Italy's new government to force Europe's hand at the upcoming summit of EU leaders in Brussels in late June. Italy for years has complained that it has been left largely alone to manage Europe's migrant crisis, but the new government says its tactics have finally gotten the point across.
"I think we've never been so central and so heard as we have been over the last hours," Salvini told senators, adding that he had heard from sympathetic officials in Germany and elsewhere applauding his stance.
Salvini has accused European aid groups of essentially operating taxi services for Libya-based human traffickers, and has said Italy will now refuse their rescue ships entry. Italian maritime vessels, however, are still docking in its ports: on Wednesday, an Italian coast guard vessel docked in Catania, Sicily with 932 migrants aboard.
Still at sea were 40 migrants rescued by the U.S. Navy vessel Trenton, which was in the Mediterranean for what the U.S. 6th Fleet said were routine operations. The rescue was first reported by German migrant aid group Sea-Watch, which said 12 bodies had also been recovered during the operation.
Sixth Fleet officials didn't respond to requests to the Associated Press for information about where the migrants would go, saying only that they were being provided with food, water and medical care.
Macron on Tuesday blasted what he called Italy's cynicism and irresponsibility in turning away the Aquarius, with his office saying that France doesn't want to "start a precedent" that would allow some European countries to breach international laws and rely on other EU member states to take in migrants.
On Wednesday, France sought a more conciliatory tone, with the foreign ministry saying France was fully aware of the burden Italy has carried. "None of the comments by French authorities have questioned this, nor the need for a close coordination between Europeans," a statement said.
Macron is due to meet in Paris on Friday with new Italian Premier Giuseppe Conte.
On Wednesday, Italian Finance Minister Giovanni Tria canceled a planned meeting with his counterpart, Bruno Le Maire.
Neither office gave a reason, but earlier the Italian foreign ministry said it had summoned the French ambassador to complain that the French comments about the Aquarius were "unacceptable," and were compromising their diplomatic relations.
It added that Italy was waiting for French to take action to "heal the situation that has been created."
Salvini also blasted France for having turned back 10,249 migrants at Italy's northern border since January "including women, children and disabled people." The border crossing point at Ventimiglia has been the scene of protests and desperation for years as France has refused to let in migrants, many of whom are seeking to reach family in France or Germany.
Under the EU's asylum laws — currently the subject of revision amid a major political dispute — migrants must apply for asylum in the country where they first enter Europe. In practice, this has placed a heavy burden on Italy and Greece, where hundreds of thousands of people have entered in recent years. Some countries feel justified in stopping migrants from entering when they should have registered elsewhere.
Salvini's League campaigned during the March 4 national election on a strong anti-migrant agenda that included promises of mass expulsions of migrants already here.
The Associated Press contributed to this report.