Teenage girls allegedly forced into North Korean sex parties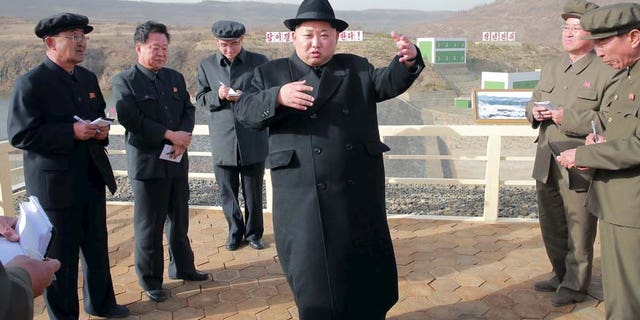 NEWYou can now listen to Fox News articles!
Welcome to the secret high-class sex parties for North Korea's elite, where schoolgirls as young as 13 are allegedly forced into servitude for their leaders' pleasure.
The girls are picked out at random by soldiers – sometimes from their own school classrooms. Their family and medical histories are closely examined, and routine check-ups are performed to ensure their virginity is intact.
Over the following decade, these girls are expected to service the small military circle of North Korea's elite. They are known as the leader's Pleasure Squad – or Gippeumjo.
These are the claims of various defectors who managed to escape North Korea over the past decade. Each one describes the mysterious group in similar terms -- a bizarre secret world where girls are plucked out of society and trained as high-class adult entertainers.
INSIDE THE 'PLEASURE SQUAD'
The Pleasure Squad is made up of 2,000 North Korean girls, and divided into three specialized groups - one for sexual services, one for giving massages, and one for live singing and dancing, which they can be made to do semi-nude.
Within the walls of North Korea, the practice is incredibly secretive, and knowledge of its existence comes solely from defectors who have fled to China or South Korea.
Even the families of girls in the Squad are not told where they are going -- only that they are taking part in "important government projects". From that moment on, the girls are not permitted to see or speak to their relatives.
Less than six months after his father's death, the South Korean newspaper Chosun Ilbo reported that Kim Jong Un, the current leader of North Korea, was seeking new "entertainers" for his own Pleasure Squad, just after the formal three-year mourning period for his father.
WHAT DO DEFECTORS SAY ABOUT THE SQUAD?
Mi-Hyang (she only goes by her first name for her protection) escaped to South Korea after two years of 'service' to the late Kim Jong-il. After defecting, she told her story to Marie Claire magazine in 2010.
She said she was only 15 years old when two men in bemedalled green soldier uniforms stormed her classroom without warning, and scanned the room.
One of them pointed to her, and demanded she come with them.
Mi-Hyang said they made a detailed record of her schooling and family history, and directly asked her if she had ever had sex with a boy. "I felt so ashamed to hear such a question," she said.
When the assessments were complete, the girl was to spend a full decade servicing Kim Jong-il, the father of Kim Jong Un.
She was not allowed to speak to her family, and she knew if she was caught trying to run away, she would be executed immediately.
The chosen girls, she said, had to meet strict criteria. They were to be under 5.5 feet tall, free of scars and blemishes, and had to have a soft, feminine voice. Being a virgin was imperative.
After being "chosen", rigorous training programs would take place. Girls might be sent to Hong Kong for months at a time for advanced massage training, or sent elsewhere to learn to sing and dance professionally.
Being a teenage student, Mi-Hyang said Kim Jong-il would touch her head and hold her hands, but would never call her for sexual relations.
She remains convinced that if she stayed longer than she did, he eventually would have.
Some critics have doubted the authenticity of Mi-Hyang's story, but she's not the only North Korean runaway to speak of the bizarre group.
In his 2015 memoir Dear Leader: Poet, Spy, Escapee – A Look Inside North Korea, North Korean defector Jang Jin-Sung explained that the most attractive girls in North Korea were called 'Section Five' girls.
'Section Five' refers to the most powerful entity in North Korea - now known as Kim Jong-un's innermost circle. According to Jin-Sung, their job is to oversee matters related to the leader's private life, from food to entertainment. The Pleasure Squad falls into the latter.
"After selection, the girls undergo an annual physical inspection to check for disease and to make sure they're still virgins," he wrote. "At sixteen, when the girls finish middle school, the regional branches of Section Five make a selection from among them.
"The ones who make it through to the final round are sent for a year's training and then dispatched throughout the country.
"Most of them go into arranged marriages with personal guards or senior cadres cleared to work in foreign affairs. Some even go on to become cadres themselves. Section Five manages the whole operation."
Lee Il-Nam, a nephew of Kim Jong Un's father, also described the Pleasure Squad in a memoir he penned before his assassination, called Kim Jong-il's Royal Family.
He said exclusive parties at Kim's official residence in Pyongyang were common. These could last until 3am, and centred on alcohol, sex, and extravagant food. Only 40 people out of his 200 associates were selected.
Click for more from news.com.au.