Teen stripped of suicide vest claims ISIS brainwashed him
NEWYou can now listen to Fox News articles!
A 15-year-old Iraqi boy caught by police moments before he could blow himself up last August is now speaking out, claiming the Islamic State terror group had brainwashed him.
PHOTOS: BOY CAUGHT BEFORE DETONATING EXPLOSIVE BELT IN IRAQ
The boy said an older teenager ordered him to carry out the attack at a football stadium in Kirkuk.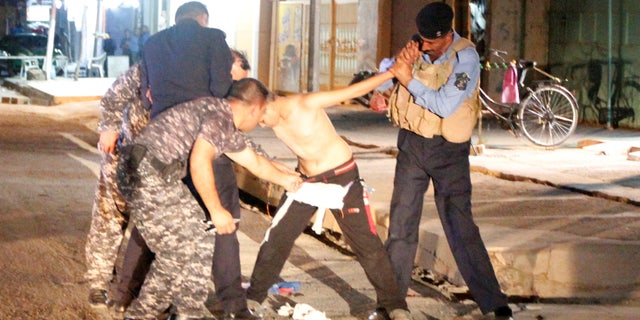 "I was hesitating. Dureed kept urging, 'just walk into the middle of them and blow yourself up', but there was something inside me that was resisting. I couldn't do it," the teen told The Times.
He went onto say, "I felt a bit relieved, but also confused. I didn't know what to do anymore."
FOX NEWS GETS FIRST LOOK AT ISIS TUNNELS NEAR MOSUL
While under the guise of ISIS, the boy said the terrorists gave him a new name and put him through months of brainwashing and indoctrination. "No one ever called me by my real name again."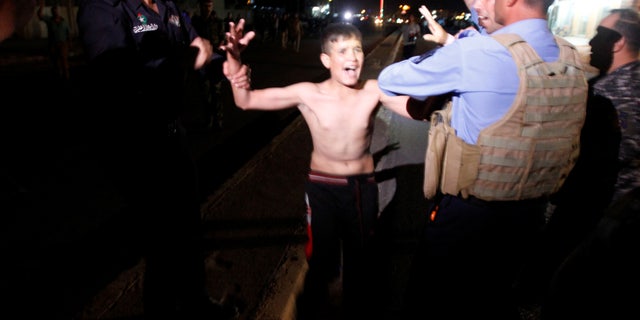 The group controls an army of child soldiers, which it calls "cubs of the caliphate," and seeks to re-educate children at ISIS-run schools, drugging some of them, exposing children to violent acts, including beheadings in an effort to create a young army of suicide bombers.
The photos from August showed the boy in tears as police restrained him and cut off his suicide vest.
ISIS has a track record of using children in their terrorist attacks. Just before the incident in Kirkuk, a teenage bomber blew up a wedding in Turkey killing at least 54 people.
In addition, a gruesome attack at a Baghdad soccer game last March killed 29 people and wounded 60, with many of the victims children, officials said. The bomber was believed to be a teenager.