Tear Gas Fired at Protesters in China Seaside Town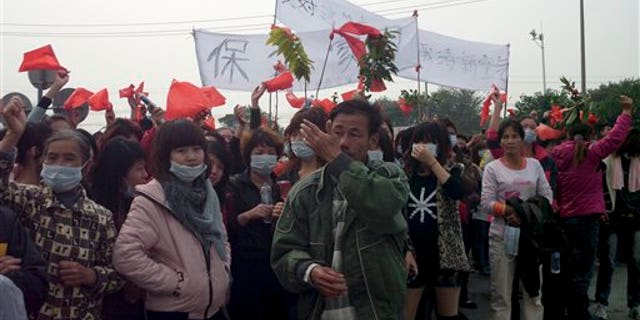 BEIJING – Riot police in a southern Chinese coastal town fired tear gas Friday at protesters, including elderly men and women, on the fourth day of unrest over a planned power plant expansion, according to protesters' accounts and TV footage.
Police and protesters in the town of Haimen squared off near a highway entrance that has become the focal point for protests this week, with residents demanding that authorities release an unknown number of demonstrators.
The town's elders knelt on the road facing a barricade set up by riot police with helmets and shields several hundred yards away while others lit large incense sticks and planted them into a plastic foam makeshift altar, a protester said by phone.
"They were begging the police to release those people that they've detained and praying that the riot police can see things more clearly," the 20-year-old saleswoman surnamed Yao told The Associated Press by phone.
Haimen's protesters are demanding a halt to the planned expansion of a coal-fired power plant that they say has contributed to what they say is a rise in cancer cases and heavy pollution in the seas, a serious problem for a town where many make their living from fishing.
The protests started Tuesday when thousands of people besieged a Haimen government office and blocked a highway. When riot police used tear gas in an attempt to disperse them, demonstrators hurled rocks, water bottles and bricks in return. Clashes broke out, injuring an unknown number of protesters and police, residents say.
In response to the protests, the local government said Tuesday that it would temporarily suspend the power plant project, the official Xinhua News Agency said.
But protesters say they have not heard directly from authorities on the matter and say several protesters in their teens or early 20s had been detained.
Many of the protesters waved red plastic bags meant to signify red scarves worn by children as part of their school uniforms, photos from the scene showed.
They held up banners saying "Release the people," "Defend our home" and "Oppose construction of power plant."
It was not immediately clear how many people have been taken into police custody, but Xinhua said Thursday that five people had been detained by Wednesday for vandalism during the protests.
Earlier in the day, police fired tear gas at the protesters, said another protester, a man surnamed Lin.
"When they saw that more and more people had come to protest, they fired the tear gas to try to chase us away. At the same time, a big gust of wind blew toward us, so we all had to run," Lin said. "My tears ran continuously. Our eyes are all red."
This is the third time police have used tear gas to disperse protesters in Haimen this week.
"We have no weapons at all. All we are doing is standing here and protesting," Lin added.
Hong Kong's Cable TV showed footage of tear gas clouds being blown toward protesters, scattering the crowd of hundreds of people. Riot police with helmets and shields had formed a blockade at the entrance to the highway.
After three decades of laxly regulated industrialization, China is seeing a surge in protests over such environmental worries.
In September, hundreds of villagers in an eastern Chinese city near Shanghai demonstrated against pollution they blamed on a solar panel factory. In August, 12,000 residents in the northeastern port city of Dalian protested against a chemical plant after waves from a tropical storm broke a dike guarding the plant and raised fears that flood waters could release toxic chemicals.