Tamil Nadu leader Jayalalitha critical after heart attack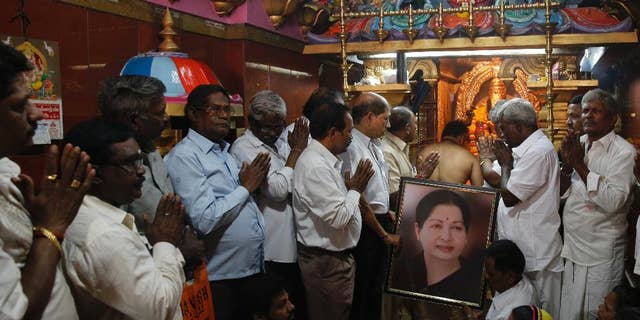 NEWYou can now listen to Fox News articles!
NEW DELHI – The popular leader of India's southern Tamil Nadu state was in critical condition after undergoing surgery Monday morning, hours after suffering a heart attack, the hospital said.
Tamil Nadu Chief Minister Jayaram Jayalalitha was being monitored by "a team of experts, including cardiologists, pulmonologist and critical care specialists," according to a statement from Dr. Subbaiah Viswanathan at Apollo Hospital in the state capital of Chennai.
Thousands of Jayalalitha's supporters, wailing and crying, gathered outside the hospital Monday to pray for her recovery. Police were deployed across the state to ensure security, out of fear that her death could trigger widespread violence and riots.
The U.S. Consulate in Chennai put out an advisory urging Americans to be careful in the city and avoid large crowds.
The 68-year-old actress-turned-politician had heart surgery early Monday, after she suffered a heart attack Sunday night, her AIADMK party said. Jayalalitha had already been in the hospital for two months since Sept. 22, when she was admitted with a fever, dehydration and a respiratory infection.
Affectionately called "Amma," or "Mother," by her supporters, Jayalalitha joined politics in the early 1980s after a successful film career that included appearances in nearly 150 movies. She has had three stints as chief minister of Tamil Nadu, the latest of which began in May 2011.
Government officials have rushed to the hospital in Chennai. Police erected barricades to block roads leading to the hospital.