Taliban leader Mullah Omar vowed to take Kabul 'within a week' of U.S. pullout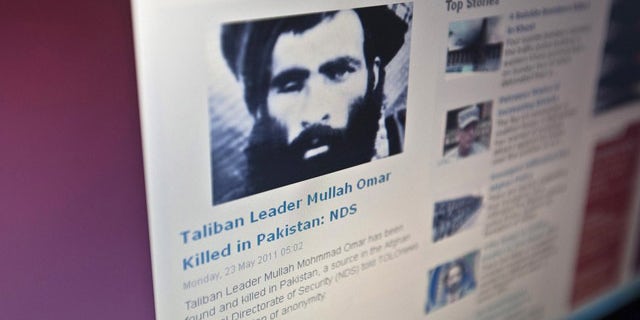 Mullah Omar, the elusive, one-eyed Taliban leader who has been in hiding with a price on his head since the U.S. ousted his regime in Afghanistan, recently told confidantes his group will retake Kabul "in a week" once America pulls out.
The seldom seen Taliban spiritual leader, of whom only one purported photograph exists, made the pledge at a recent meeting in the badlands of southwestern Pakistan, according to a source in regular contact with a member of Mullah Omar's government-in-exile, dubbed the Quetta Shura.
Mullah Omar, who escaped his homeland in 2001 on a motorcycle as U.S. forces moved in, spoke just days before President Obama announced the U.S. plans to engage the Taliban in peace talks. On the day of that announcement, the Taliban took credit for a bombing that killed four U.S. service members at Bagram Airfield, a U.S. military base in Afghanistan.
[pullquote]
It is unclear if Mullah Omar remains in charge of the full Taliban, or if the group made up of exiled members of the ruling class and jihadist fighters is splintered beyond control. The source who relayed Mullah Omar's statements to FoxNews.com said the leader disavows the talks with the U.S.
Neither Mullah Omar's pledge nor word of peace talks is likely to be welcome to Afghan President Hamid Karzai. Obama made the announcement at the Group 8 summit in Northern Ireland, where he called it "a very early step" toward the planned exit of U.S. troops by the end of 2014. The idea of Karzai and Mullah Omar co-existing in Afghanistan is inconceivable, according to the source, himself a Taliban militant.
"[Mullah Omar believes] the host of Americans are a worse enemy than Americans," said the militant.
If the U.S. is seeking to engage Taliban leaders loyal to Mullah Omar, the bone of contention could be that America has him on its most wanted list, with a bounty of $10 million on his head.
Tariq Fatemi, a former Pakistani ambassador to the U.S. and a current adviser to Prime Minister Nawaz Sharif, said, "Isn't the U.S. willing to talk to the Taliban?" adding that he is "perplexed" by the fact that Omar remains on America's hit list.
Mullah Omar, whose identity remains secretive despite his leadership role, rose to power after Afghanistan descended into chaos and civil war in the early 1990s. Seminary students armed and led by Omar fought against rampant corruption and crime, gaining the respect of Afghanistan's mujahedeen fighters.
He became the Taliban's de facto head of state in 1996, and remained there until U.S. and allied forces toppled his government in October 2001 for sheltering Usama Bin Laden following the 9/11 attacks.
He is believed to be in his 50s, and has been moving cautiously between Afghanistan's Spin Boldak district in Kandahar province and the southwestern Pakistani city of Quetta in the impoverished region of Balochistan, where rebels, terrorists and refugees live together.
"He is in good health and living a pious life being guarded by his trusted lieutenants," said the militant who spoke to FoxNews.com.
Pakistan's foreign office in a press release welcomed the announcement of the Taliban opening an office and direct talks between U.S., and the militant group reiterating urgency to an early end to the war to re-establish peace and security. The country has been key in facilitating the negotiations by releasing detained Taliban commanders over the past several months and some, according to Pakistan officials, will be part of peace negotiations.
Pakistan, which has an uneasy alliance with the U.S., is holding at least two high-level Taliban leaders under arrest and denies the Quetta Shura is waiting out the Americans on its soil. But trust between the two nations over Pakistan's commitment to the U.S. war on terror has suffered since the 2011 raid that killed Al Qaeda boss Usama bin Laden in a compound in Abbottabad.
Fatemi just short of acknowledging Mullah Omar's presence in Pakistan said that even if he was, the U.S. would be wrong to move against him as it did Bin Laden.
"Are we going back to the law of the Jungle?" Fatemi said. "Once you start breaking international law, you are setting a dangerous precedent."