Taliban Chief Disappears Says Afghan Intel Agency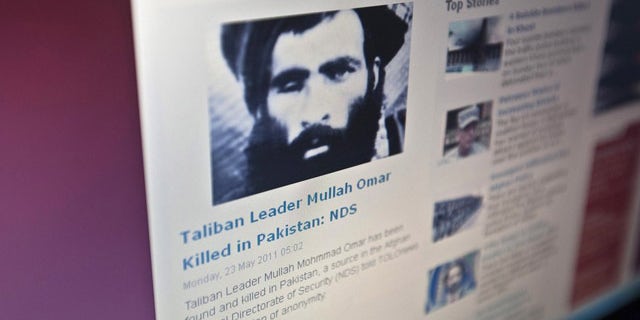 KABUL, Afghanistan – The Afghan intelligence agency said Monday that the reclusive leader of the Taliban has disappeared from a suspected hideout in Pakistan and has been out of contact with his commanders for days -- adding further questions about Mullah Mohammad Omar after a media report said he was killed.
The Taliban denied the claim on the Afghan news channel Tolo that Omar was shot dead while being moved inside Pakistan with the help of a former Pakistani intelligence official. The Taliban spokesman countered that Omar was alive and was somewhere inside Afghanistan.
The conflicting reports, however, underscore the complicated disputes and suspicions between Afghanistan and Pakistan as the U.S. intensifies pressure on both sides: urging Afghan forces to step up efforts against militants and pushing Pakistani authorities to help unravel the networks that aided Osama bin Laden.
Pakistan's foreign minister, meanwhile, was in Kabul for talks with Afghan President Hamid Karzai, who has been increasingly outspoken in the need for Pakistan to take a stronger role in the fight against militant groups.
There also has been much speculation that the U.S. might ramp up efforts to kill or capture the Taliban leader after the raid that killed Osama bin Laden on May 2. U.S. President Barack Obama has said he would order another covert military raid if it was necessary to stop terrorist attacks.
Afghan officials claim Omar has been sheltered in Quetta or Karachi, major cities in southeast Afghanistan. Pakistan says it has no credible evidence Omar is in the country.
The spokesman for the Afghan National Directorate for Security, or NDS, said Omar and some Taliban commanders had not been spotted since late last week while moving from Quetta to North Waziristan -- a tribal area in Pakistan that is used as a staging ground for attacks on U.S. and NATO troops in Afghanistan.
The spokesman, Latifullah Mashal, suggested that "maybe an incident has happened along the way," but emphasized that officials had no further information about the fate of the Taliban leader.
"We can confirm he's been disappeared from his hideout," Mashal told reporters in Kabul.
Mashal made the statement after the Tolo report, which cited an anonymous Afghan intelligence official as saying Omar had been shot dead in Pakistan en route to North Waziristan with the help of Gen. Hamid Gul, the former chief of Pakistani intelligence.
Taliban spokesman Zabiullah Mujahid declined to give details of Omar's whereabouts, but said the insurgent leader was "busy directing military operations with his commanders."
A Pakistani intelligence official also said that there was no information to back up the report of Omar's death. He spoke anonymously because of the sensitivity of the subject. Gul told The Associated Press that the story was false.
"This is propaganda, sheer deception, disinformation," Gul said. "I have never met him. I've never seen him. No contact whatsoever."
Mashal said that the NDS had shared information about Omar's whereabouts "more than 30 times" with neighboring countries, especially Pakistan.
"Most of the allies are honest, some are not," the spokesman said in an apparent reference to Pakistan.
Afghanistan's leaders accuse Pakistan's intelligence services of aiding the Taliban and other insurgents fighting international and Afghan troops. Meanwhile, Pakistan is under intense scrutiny from Washington for failing to locate bin Laden, who was found in a compound in a military town near the Pakistani capital.
Attacks have increased in Afghanistan since bin Laden's death and the start of the Taliban's yearly spring offensive. On Monday, four NATO service members were killed in an explosion in the east, NATO said in a statement. Another soldier died in an explosion in southern Afghanistan, NATO said late Monday. The military alliance did not provide details on the attacks or the nationalities of the dead.
In a separate attack, a suicide bomber attacked a gathering of tribal leaders in the eastern Laghman province, killing five people having lunch at a hotel, according to governor's spokesman Faizanullah Patan and the provincial health department.
Meanwhile, officials said they had arrested five suspects accused of aiding a suicide bombing Saturday at the nation's main military hospital in Kabul that killed at least six Afghan medical students. One of those arrested was an Afghan soldier who allegedly allowed the suicide bomber, dressed in a military uniform, to enter the medical complex, Mashal said.
Obama told the BBC in an interview broadcast Sunday that he could not allow "active plans to come to fruition without us taking some action," and would send troops again if a senior Taliban leader was found in Pakistan.
But there are also parallel efforts to get the Taliban leadership into negotiations with the Afghan government, making it unclear if such a strike would be in the interest of the American or Afghan governments.