Taliban attack on Pakistani Air Force base linked to country's nuclear program, 1 dead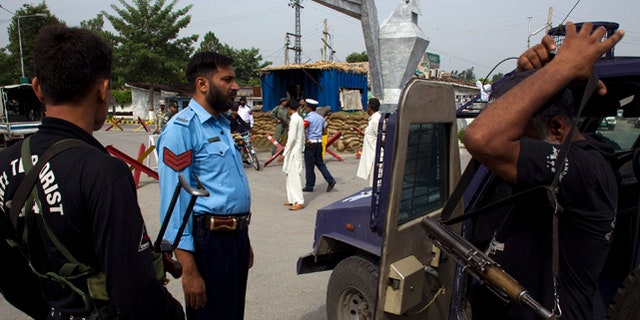 A team of up to nine Taliban militants — believed to be working under the direction of Al Qaeda — attacked a Pakistani Air Force base linked to the country's nuclear program early Thursday, killing one security official during a gunfight lasting more than two hours that left the insurgents dead.
Armed with rocket-propelled grenades, automatic weapons and suicide belts, the militants attacked Air Force Base Minhas at about 2 a.m. local time, Pakistani Air Force officials said. Sources told Fox News that while Taliban militants carried out the attack, initial indications show that Al Qaeda ordered the predawn raid.
Military officials believe the attack may be a response to speculation that following longstanding U.S. pressure on Pakistan, armed forces may be launching a clearing operation in the terrorist stronghold of North Waziristan.
At least one of the rockets struck a hangar, pierced its wall and exploded, damaging one of the aircraft parked inside, said Pakistani Air Force spokesman Tariq Mahmood.
The militants scaled a wall surrounding the air base following the intense rocket barrage and a two hour-plus gunfight ensued, Mahmood said. Security forces were able to retake the base, but one soldier and the nine militants were killed, including one who blew himself up outside the base's perimeter.
Air Commodore Muhammad Azam, who was leading operations at the base, suffered a gunshot wound to the shoulder. He remains in stable condition, Mahmood said.
Hours later in northern Pakistan, gunmen forced 20 Shiite Muslims from buses and executed them. The separate incidents underscore two formidable challenges Pakistan faces: a still-potent threat from the Pakistani Taliban and sectarian violence in a Sunni majority country where Shiite Muslims often feel under attack.
Air Force Base Minhas — named after a pilot, Rashid Minhas, lauded as a hero in Pakistan for thwarting attempts by his instructor to defect with an air force plan to archrival India in 1971 — is located about 25 miles northwest of Islamabad. It hosts a variety of fighter jets, including F-16s, and contains a factor that makes aircraft and other weapons systems. Some experts believe the base may be linked to the country's nuclear arsenal due to weapons development there and the presence of jets that could be used to deploy the bombs. Pakistani military officials denied that the base was home to the country's nuclear arsenal.
"No air base is a nuclear air base in Pakistan," one Pakistani military source told Fox News.
Pakistan has about 100 nuclear weapons and is in the process of expanding its arsenal, Western experts believe.
"The great danger we've always feared is that, you know, if terrorism is not controlled in their country, that those nuclear weapons could fall into the wrong hands," U.S. Defense Secretary Leon Panetta told reporters at the Pentagon on Tuesday.
Pakistani Taliban spokesman Ahsnullah Ahsan claimed responsibility for the air base attack, claiming it was revenge for the death of the group's leader, Baitullah Mehsud, and the American commando raid that killed Al Qaeda chief Usama bin Laden last year. Militants damaged three aircraft in the attack, he said.
Panetta told The Associated Press earlier this week that Pakistan has informed American military officials that it plans to launch an operation against the Pakistani Taliban in North Waziristan in the "near future."
Fox News' Dominic Di-Natale and The Associated Press contributed to this report.