Taiwan's speaker expelled as political scandal deepens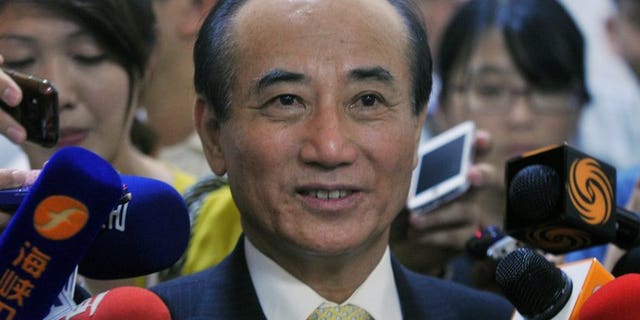 NEWYou can now listen to Fox News articles!
TAIPEI (AFP) – Taiwan's ruling party expelled the parliamentary speaker Wednesday after he was accused of meddling in a lawmaker's court case, deepening a political scandal that has rocked the island.
President Ma Ying-jeou, chairman of the the Kuomintang (KMT) party, said Wang Jin-pyng was "unfit" to head the legislature after he was accused of influencing prosecutors not to appeal in a breach of trust case involving lawmaker Ker Chien-ming.
Wang was suspected of asking then-justice minister Tseng Yung-fu and a top prosecutor not to appeal last year's acquittal of Ker, the party whip for the major opposition DPP (Democratic Progressive Party) in parliament. Tseng resigned on Friday over the case.
The ruling party said Wednesday that Wang's membership had been revoked for "damaging the party's reputation", rendering him unable to continue as speaker.
Wang later said he would appeal the party's decision.
Wang, 72, was a KMT heavyweight known for his grass-roots influence, and his removal has sent shockwaves through the island's political circles. He had been one of Taiwan's longest-serving speakers, holding the position since 1999.
"I hoped Wang would have voluntarily resigned to maintain the last shred of dignity for the parliament and the KMT," Ma told reporters Wednesday.
The claims against Wang were uncovered by investigators wiretapping Ker's mobile phone.
And Wang told reporters late Tuesday that this was an "illegal investigation".
"I do not accept that prosecutors have unilaterally charged me with influence-peddling following an illegal investigation," he said.
The DPP unexpectedly scrapped a TV debate slated for Sunday between Ma and his opposition counterpart, with party spokesman Wang Min-sheng saying the incident had plunged the island into "a constitutional crisis".
"Now is not a good timing for the debate," he said.
Analysts warned that kicking the parliamentary speaker out of the party could lead to a split within the Kuomintang.
Tseng, the former justice minister, has also denied wrongdoing. He was the third minister in the Ma government to step down in recent months.
In late July, defence minister Kao Hua-chu resigned following public anger over the death of a young conscript, who was allegedly abused in the military.
His successor, Andrew Yang, quit just six days after taking office over plagiarism allegations.
Taiwan's judicial system has been criticised in recent years after a corruption scandal implicating top judges as well as a spate of controversial rulings involving child sexual assault cases.