Taiwan soaked, but bigger typhoon aims at Okinawa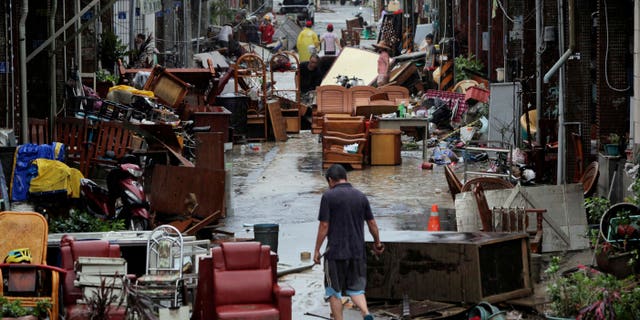 A typhoon crossed over southern Taiwan on Friday morning but largely spared the island's heavily populated areas, while another, larger storm was threatening to hit the southern Japanese island of Okinawa early Sunday.
Flood waters from Typhoon Tembin reached 3 meters (9 feet) high in one town, where armored vehicles rescued several dozen people from their flooded homes. Television pictures from the town of Hengchun showed empty buses overturned by raging waters and streets littered with uprooted trees and pieces of mangled furniture. After quickly crossing the island, Tembin returned to sea by late morning.
Typhoon Bolaven, meanwhile, could reach Okinawa early Sunday with maximum winds near the eye forecast at 112 mph. On Friday, the storm had winds of 162 kph (101 mph), the Japan Meteorological Agency said.
The agency issued advisories for gale-force winds in Okinawa and high waves in the waters around the island, where more than half the 50,000 U.S. troops based in Japan are stationed.
One of the biggest, Kadena Air Base, banned water-based activities in the rough seas as part of its preparations for the typhoon.
In Taiwan, authorities mindful of a devastating typhoon that took 700 lives three years ago had evacuated mountainous, landslide-prone areas and readied troops for rescue operations, but for the most part, they were not needed.
Winds measuring close to 96 mph toppled trees and blew out windows in the area, but no casualties were reported.
Forecasters say Tembin, now a tropical storm, appears to be heading for mainland China but could turn back and dump more rain across Taiwan's southern agricultural heartland.
The impact of Tembin in the heavily populated areas of northern Taiwan was extremely limited. Businesses and schools in Taipei were operating normally, and flights at the capital's two airports were unaffected.