Taiwan minister resigns after influence peddling claim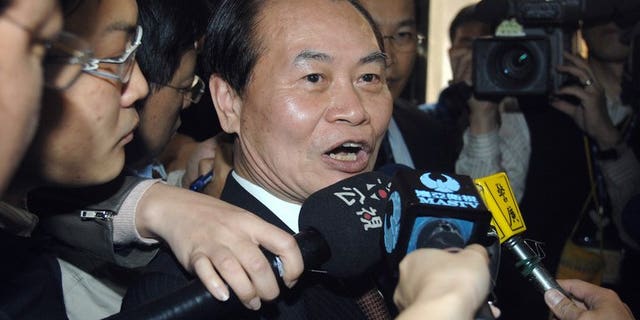 TAIPEI (AFP) – Taiwan's justice minister resigned on Friday after he was accused of meddling in a lawmaker's court case in the latest judicial scandal to hit the island.
Tseng Yung-fu, along with Chen Shou-huang, head of the High Prosecutors Office, was suspected of ordering prosecutors not to appeal in a breach of trust case implicating lawmaker Ker Chien-ming, said the Special Investigation Division.
They were accused of discussing Ker's case with either Legislative Speaker Wang Jin-pyng or Ker himself to ensure that prosecutors would not appeal after a court acquitted the lawmaker last year, it said.
"Minister Tseng stressed that he did not resign because of the accusations but to defend his reputation and to avoid affecting follow-up investigation," a cabinet statement said, adding that his resignation has been approved.
The division, a unit under the Supreme Prosecutors Office in charge of probing high-level corruption, said it has sent Tseng to the Control Yuan, the top government watchdog, for alleged influence peddling and interference in a court case.
Chen, who also denied any wrongdoing, will face an administrative review by a prosecutors' committee for allegedly violating judicial ethics and impartiality, it said.
Tseng, who took office in 2010, vehemently denied the accusations and said earlier Friday that he would not step down over "something I didn't do".
"I promise that I absolutely did not interfere in the case. I welcome the Control Yuan to investigate the matter," Tseng told reporters.
"There was no evidence to prove that I was involved in influence peddling. I am saddened and appalled that I was framed ... for personal revenge," he said without elaborating.
Taiwan's judicial system has come under criticism in recent years after a corruption scandal implicating top judges as well as a spate of controversial rulings, including several cases involving sexual assaults of children.
In 2011, three controversial cases in which child molesters were acquitted or given lighter sentences triggered mass street protests and prompted parliament to tighten laws on child sex abuse.
In the same year, three senior judges were sentenced to up to 20 years in prison for taking bribes from defendants in exchange for not guilty verdicts.