Syria's refugees find a new home in Uruguay and throughout Latin America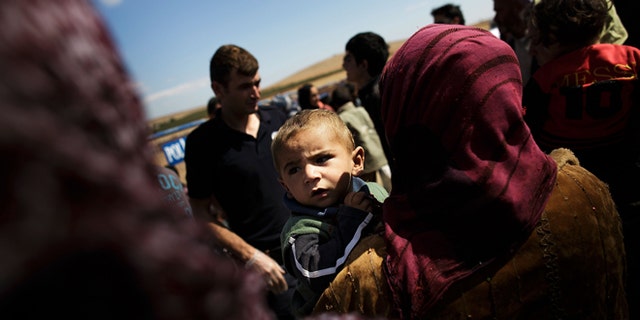 Embroiled in a bloody, three-plus year long civil war and dealing with the spread of Islamic State militants across the country, Syria has seen more than 3 million refugees fleeing over its borders to refugee camps in places like Lebanon and Turkey.
But with these camps overflowing and places like the United States and European nations setting a high bar for asylum seekers, some Syrians are traveling thousands of miles to find refuge from the violence in their homeland.
Latin America – particularly Uruguay – has become a destination for a small, but growing number of Syrian refugees as President José Mujica, a former guerrilla fighter who once spent time on the run himself, launched a plan to eventually take in 120 Syrians.
"If only every country would do something," said Uruguayan Human Rights Minister Javier Miranda, according to the Tico Times. "Uruguay would like to say, 'Come on, step it up, we can do this.'"
The first 40 Syrian refuges are expected to arrive sometime this week in the Southern Cone nation of 3.3 million people, with the remaining 80 expected in February 2015. The refugees will receive government support for an initial period of two years.
Uruguay will spend somewhere between $2.5 million to $3 million on the plan, which the country worked with the United Nations High Commission on Refugees (UNHCR) and Sweden to create, with the funding going to help the resettled families find work and housing.
"Latin America has a long tradition of taking in asylum seekers," said Ana Lia Conde, a UNHCR official in Argentina.
Latin America was a haven for Spaniards seeking refuge from Francisco Franco's regime and those persecuted by the Nazis in the 1930s and 1940s. It also became the hiding spot for many high-ranking Nazis and Nazi sympathizers following World War II.
Besides Uruguay, many other Latin American nations – especially those with large Syrian immigrant populations like Brazil and Venezuela – have opened their borders to refugees.
Last year, Brazil allocated 4,000 humanitarian visas for victims of the conflict, with more than 1,200 of them having been received so far. Venezuela launched recently special procedures to ease Syrian emigration to the country and help them receive refugee status – with 3,000 people having applied since the procedures were introduced four months ago and between 800 and 1,000 applications already having been processed.
The Syrian conflict started in March 2011 as largely peaceful protests against President Bashar Assad's rule. It turned into a civil war after opposition supporters took up arms to fight a brutal government crackdown on dissent.
The four-decade iron rule of the Assad family long has rested on support from Syria's ethnic and religious minorities, including Christians, Shiite Muslims and Kurds. The Assad family and key regime figures are Alawites, followers of an offshoot of Shiite Islam, while most rebels and their supporters are Sunni Muslims.
Complicating the situation is the spread of the Islamic State, or ISIS, militants into regions of the country and across the border in Iraq. More than 191,000 people have been killed, with approximately 9 million people uprooted from their homes due to the civil war alone.
Twin bombings near a school in central Syria killed at least 17 people on Wednesday, including 10 children, as gruesome images appeared on social media networks purported to show Kurdish fighters slain at the hands of Islamic State militants during battles near Syria's border with Turkey.
The bombs went off in the city of Homs, in a neighborhood dominated by minority Alawities, a Shiite offshoot sect that President Bashar Assad also belongs to. It was one of the deadliest strikes to hit the government-controlled area in months.
The Associated Press contributed to this report.
Follow us on twitter.com/foxnewslatino
Like us at facebook.com/foxnewslatino