Syria's Assad criticizes Americans' penchant for presidential candidates with little foreign policy experience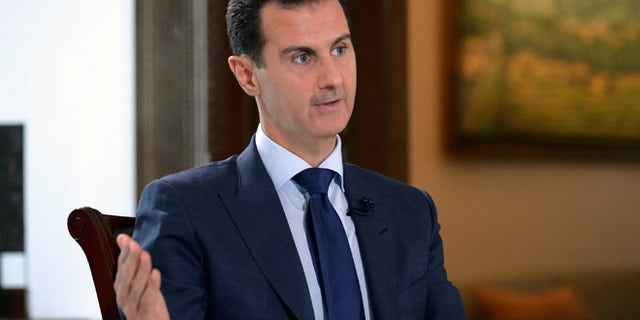 NEWYou can now listen to Fox News articles!
Bashar Assad, the embattled president of Syria, criticized the U.S. presidential elections for promoting candidates in both parties that he said fall short on foreign policy experience.
Despite his country's years-long civil war that resulted in at least 250,000 deaths, the Damascus strongman warned the U.S. electorate on the consequences of choosing a leader with little experience on the world's stage.
"Who had this experience before? Obama? Or George Bush? Or (Bill) Clinton before? None of them had any experience," he told NBC News in an interview that aired Thursday. "This is the problem with the United States."
Assad made the critique as the Obama administration takes what might be its final offer to Moscow to enhance intelligence and military cooperation against ISIS and other extremist groups if Syria's Russia-backed Assad upholds a cease-fire with U.S.-supported rebels.
When Secretary of State John Kerry meets Russia's top diplomat and possibly President Vladimir Putin in Moscow later this week, Syria's civil war and Assad's future will top the agenda. Kerry is trying to reverse a trend in which he has hailed a series of agreements with the Russians only for them to fall short, according to officials with knowledge of internal American deliberations.
Kerry is making the trip "to try to resuscitate the cessation of hostilities," and get Russia's "buy-in on a process that can lead to a nationwide cease-fire," State Department spokesman Mark Toner said Wednesday. "We haven't seen that thus far, but we're having another go at this."
The NBC report pointed out that more than 250,000 died in the civil war and the U.N. has stopped keeping track of the death toll. Assad has been accused of deliberately targeting civilians during the violence, a charge he flatly denies.
"I hope that history will see me as the man who protected his country, from the terrorism and from the intervention and saved its sovereignty," he said in the interview. "When you protect your country from the terrorists, and you kill terrorists, and you defeated terrorists, you're not brutal. You're a patriot."
The Associated Press contributed to this report.