Syrians in Idlib brace for chemical weapons attack, ground invasion by Assad forces
While pro-Assad bombs fall around Idlib province – the last opposition stronghold in Syria's long-running civil war – those trapped inside the city of the same name can only wait for the inevitable last battle, with nowhere left to hide.
"We are afraid of Assad bombing our homes, we are concerned about death – but after seven years we are used to this. Only now, there are no safe places left. There are no safe areas," Suhaib Monzer Zakour, a 25-year-old media activist inside Idlib, told Fox News in a telephone interview.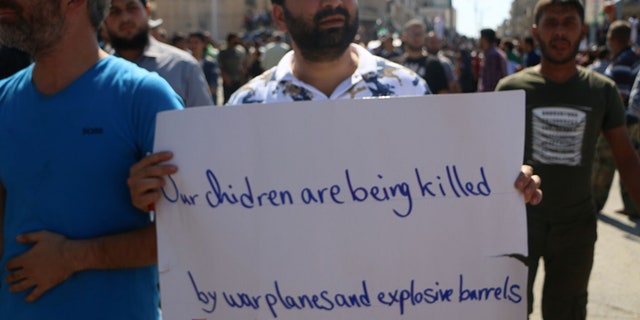 "So for now, people here just try to live their lives. They go to work, they go shopping. We don't know what will happen. But we would rather die than flee to the regime side. That is not an option for us."
The latest escalation comes as residents of Idlib and many players in the international community, including President Trump and Vice President Mike Pence, express new concerns about a Syrian attack on Idlib. And U.S officials believe Assad has already given his approval to the use of chlorine gas in Idlib, according to a Wall Street Journal report.
Despite staunch denials from Damascus and Moscow, the UN has accused the Syrian regime of using chemical weapons against its own citizens more than two dozen times. In April, a chemical attack in Idlib's Khan Sheikhoun left more than 80 civilians dead.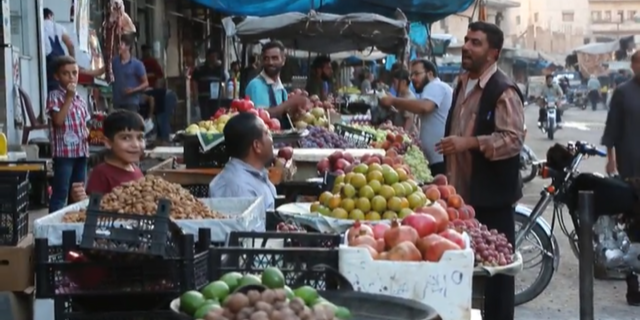 "There is little people can do due to economic vulnerability and poverty, but some are now trying to build gas shields with simple equipment," explained Moaed Tomah, a 28-year-old political science student in Idlib. "It is just a plastic bag with an empty water bottle punctured, sometimes with charcoal or cotton inside. But this might not be enough to save them."
The latest uptick of Syria and Russian airstrikes resumed with intensity over the weekend, following failed ceasefire negotiations between Russia, Iran and Turkey at a trilateral summit in Tehran. For now, the city center of Idlib is peaceful. Yet many can feel the clock ticking.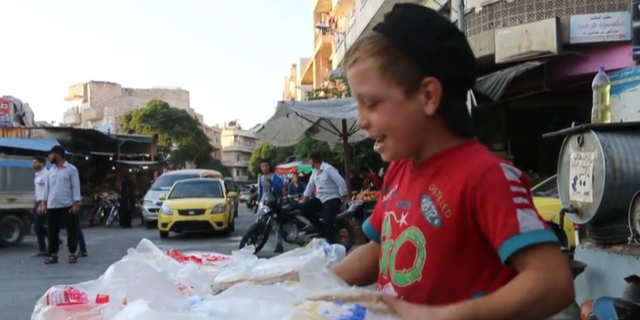 Some residents said they are storing food and medicines, while others are simply praying for the best.
"People are living in fear and anticipation because they know well what Assad and Russia are capable of. Life is functioning, but we are scared," said Mohamed Barakat, 32, a manager of a cultural center in the western Aleppo countryside. "Civilians cannot protect themselves. Even underground basements that civilians used to seek refuge in during airstrikes were previously targeted with highly destructive bombs, and are not a safe option anymore."
Idlib markets are bursting with life, as men ride through the streets on old motorcycles, while others clutch their prayer beads in quiet corners. Little boys peddle rusty bicycles, play soccer open the open spaces and work from dusk to dawn selling bread from the stands, as little girls sing and clap giddily – having known no other life outside of civil war.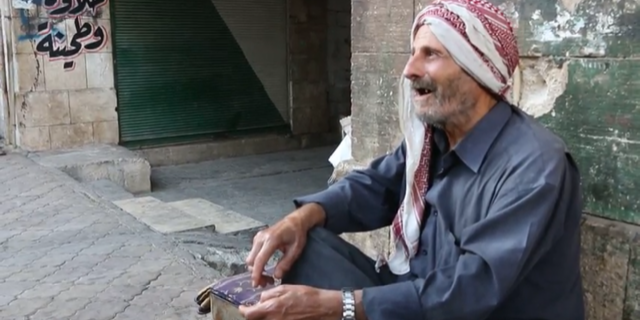 "We are doing our best to continue with normal life. It is our sign of resistance, our sign that we just want to live," said Mariam Shirout, a 38-year-old school teacher and manager of a children's center in Idlib. "But only 50 percent of children are attending school, because families are so afraid that the school will be bombed."
After more than seven years of conflict between the Bashar al-Assad government and various rebel factions, the northwestern pocket of Syria – comprising most of Idlib as well as neighboring small parcels of Latakia, Hama and Aleppo provinces – is now overflowing with more than three million people. Roughly half are already displaced, having escaped other parts of Syria, or resettled as part of a deal brokered between rebels and government forces.
The looming likelihood of an all-out assault by pro-Assad forces, with support from its key allies Russia and Iran, has forced more than a thousand civilians to helplessly run toward the Turkish border in recent days. Nonetheless, Turkey – which has already taken in millions of Syrian refugees and remains a backer of rebel forces – has clamped its border closed, leaving those in Idlib with little choice but to wait in place and hope, hover in displacement tents near the border, or return to regime areas and face possible retribution.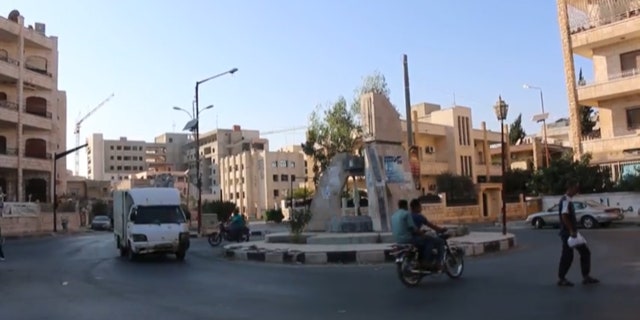 "People here, especially activists, journalists and humanitarian staff, cannot flee to regime areas because the regime will come after them and they will face the same fate of detainees who died under torture in Assad's prisons," Barakat asserted. "Fleeing or reconciling with the regime is not an option for anyone who opposed Assad."
Some in Idlib city are still attempting to sell what little they have left in an effort to collect money in the hopes of being able to pay a smuggler to take them into Turkey when the Idlib fall begins. But that journey – while only around 30 miles – is fraught with danger.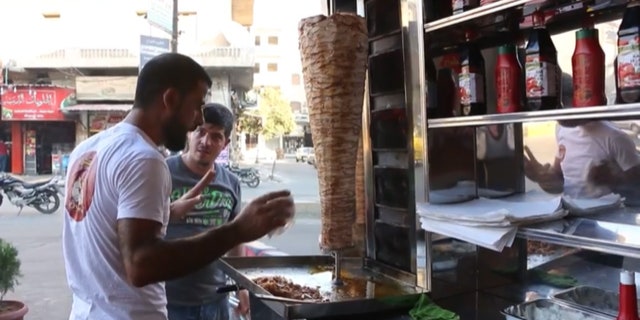 "A few are still trying to cross the border through illegal movements," Zakour said. "But Turkish border guards will shoot at them."
Multiple activists and rebel fighters in Idlib told Fox News most of the recent military action has come from the air. But there's increasing concern the regime is assembling forces from other parts of the country, prelude for a massive ground attack.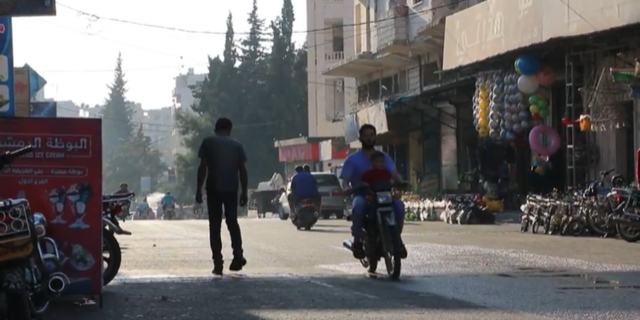 According to Dr. Khaled Almilaji, a 37-year-old physician and CEO of humanitarian medical NGO SIMRO, the bombing of hospitals and healthcare facilities – an apparent signature strategy of the regime throughout the war – has begun, with three facilities "attacked directly" in the last three days alone.
"These people are already suffering from bad humanitarian conditions due to the lack of many essential services like health, education, and drinking water," he lamented. "However, they loved the freedom they have in north-western Syria. They have for the first time in their lives the rights that they, and their parents, didn't have for tens of years."
SURVIVORS OF SYRIA CHEMICAL ATTACK 'FORCED TO LEAVE OR DIE'
FROM JAIL, REMORSEFUL EX-ISIS FIGHTER WARNS: GROUP WILL RETOOL AND RETURN
Tomah said "propaganda" has been circulating from the Assad side that the White Helmets, also known as the Syrian Civil Defense – a volunteer organization of first responder and rescue workers in rebel-controlled regions – are "preparing to carry out a chemical attack on civilians," igniting steep worry that they are in fact setting the stage for a sinister cover-up.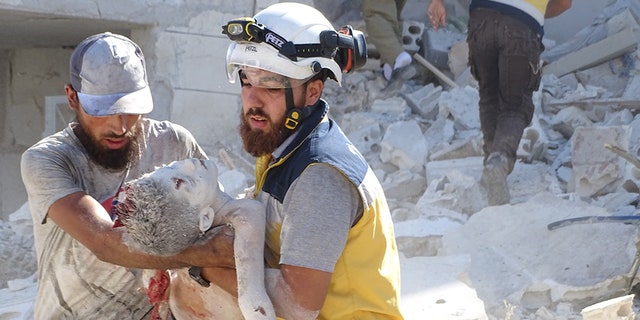 Residents say the White Helmets have, rather, been holding basic medical and survival training sessions and running an "awareness campaign" in Idlib to prepare locals for a possible chemical incursion.
"These are to guide people with steps of what to do in such an event, and there are basic points published and distributed on how to make masks and cover the body and how to isolate a room and equip it with things like a water tank as a means of protection," said Emad Batieh, 37, manager of Alrowad Schools.
Abdullah al Husain, a White Helmets board member in Idlib, told Fox News they stand ready to help.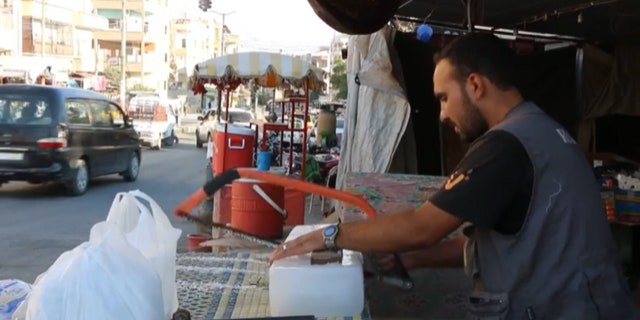 "We are just waiting," he said. "We are waiting for something; we don't know what that something will be."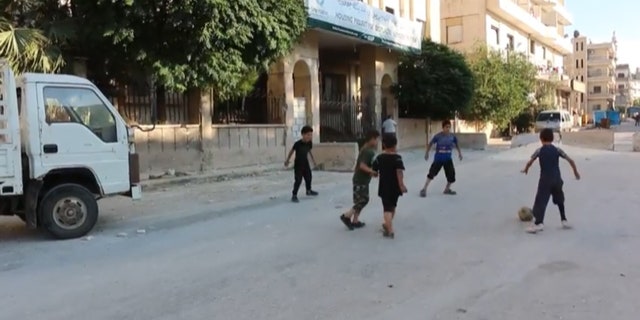 Pro-government media outlets insist the latest ramp-up of aerial bombardment is in retaliation to shelling from rebel posts, in keeping with the government's mandate that all opposition members are "terrorists."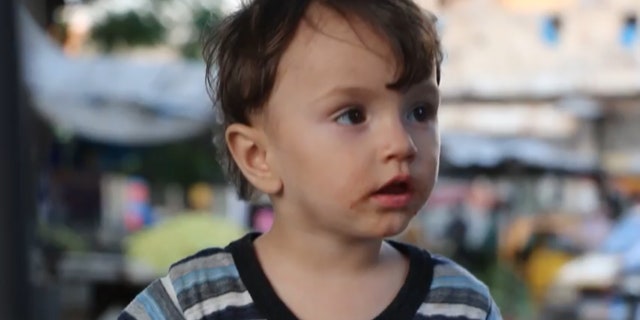 There are an estimated 10,000 rebel fighters left in and around Idlib. And the Russians insist their air attacks are targeting only those forces, while sparing civilian areas.
Some in Idlib remain hopeful for a last-ditch crack of hope that somehow, someone will save the day.
"We are besieged. Everyday life is difficult. But I will never forget the children who have become scapegoats, seeing their innocent faces torn by rocket fragments in this war," said Walid Asad, a 31-year-old mathematics teacher. "The United States and international community must carry out their humanitarian duty and prevent the regime and its allies from letting this happen again."