Syrian troops advance on rebel-held area of Homs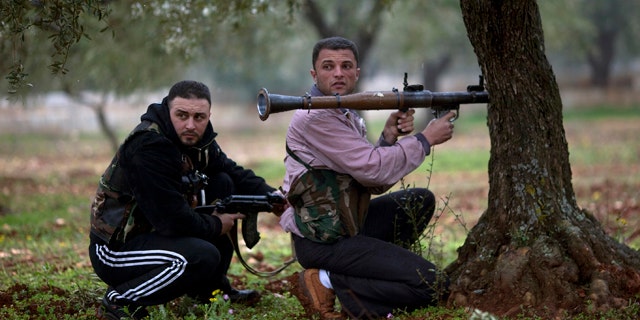 BEIRUT – Syrian troops advanced Wednesday on a key rebel-held area in the central city of Homs, where three Western journalists are among 100,000 residents trapped by a government assault that has raged for weeks. The forces appeared to be starting a ground operation to retake the area that has become a symbol of the uprising to oust President Bashar Assad.
Government forces have been heavily shelling Homs, and particularly the rebel-controlled Baba Amr neighborhood, for more than three weeks with tanks, artillery and rockets. The announcement by a Syrian official of the new troop advance indicated a ground assault was beginning to recapture Baba Amr, home to about 100,000 people.
A Syrian official vowed Baba Amr would be "cleaned" within hours. The official spoke on condition of anonymity in line with regulations.
Homs, Syria's third-largest city with a population of about 1 million, has become the major center of both anti-government resistance and reprisal, fueled in part by increasingly bold army defectors who want to bring down Assad's autocratic regime by force. The U.N. warned Tuesday that Syria's conflict looks increasingly like a civil war.
Four Western journalists -- two of them wounded -- had been trapped in Baba Amr since last week, when two other foreign reporters were killed there by a government attack. On Tuesday, Syrian rebels smuggled out Paul Conroy, one of the four journalists, and whisked him safely across the border into Lebanon. Activists said 13 Syrians involved in the rescue operation were killed during it.
Activists said regime forces discovered a nearly 1.5 mile-long tunnel that was used by activists to smuggle people, food and medicine into Baba Amr. The activists said it was not clear whether the regime would blow it up.
The Britain-based Syrian Observatory for Human Rights said electricity has been cut on the rebel-held Homs neighborhoods of Bayadah and Khaldiyeh and the military redeployed some forces in what could be preparation for an attack on those areas as well.
The French government confirmed Wednesday that two French reporters remained trapped in Baba Amr, Edith Bouvier of Le Figaro and William Daniels. Bouvier and Conroy were wounded last week in the same attack that killed American journalist Marie Colvin and French photographer Remi Ochlik.
The French Foreign Ministry demanded that the Syrian regime ensure conditions that allow for the "sure and rapid evacuation" of the two French journalists, "notably through an immediate cease-fire in Baba Amr."
"France is mobilized to accomplish the priority evacuation of its two citizens blocked in Homs, in liaison with Syrian authorities," as well as the Red Cross and Red Crescent, ministry spokesman Bernard Valero said.
He said the government will not comment further for security reasons.
Spanish reporter Javier Espinosa, who works for the major Spanish daily El Mundo, also remained trapped in Baba Amr, El Mundo said on Wednesday. The paper said it had spoken briefly to him on Tuesday evening and he said he was "ok." The paper said it did not think Espinosa is injured and did not know where he is staying.
In Damascus, a Foreign Ministry spokesman claimed Syria is committed to a humanitarian evacuation of foreign journalists from Homs province, but he alleged the government's attempts were foiled by gunmen in the area.
Jihad Makdesi told reporters that foreign journalists sneaked into Syria illegally and some may have been smuggled in, "a matter which has raised skepticism about the nature of their mission and the reality of their work."
Troops also entered the central town of Halfaya in the province of Hama, near Homs, after five days of intense shelling, activists said. They said the rebel-held town of Rastan, just north of Homs, was subjected to shelling and casualties were reported.
On Tuesday, the U.N. raised its death toll for the almost year-long uprising to 7,500, an increase of 2,000 from just two months earlier. Syrian activists say the toll has surpassed 8,000, nearly 6,000 of them civilians and the rest military forces or army defectors fighting the regime. On Monday and Tuesday alone, activists reported more than 250 people killed.
The U.N. High Commissioner for Human Rights Navi Pillay on Tuesday cited a U.N. expert panel's report that concluded Syrian government officials were responsible for "crimes against humanity" committed by security forces against opposition members. The alleged crimes included shelling civilians, executing deserters and torturing detainees. Some opposition groups, too, had committed gross abuses, the report alleged.
Activists say hundreds of people have been killed in Baba Amr since Feb. 4, when the assault on Homs began. Activists and residents inside Baba Amr could not be reached early Wednesday.
The Observatory also reported that two people were killed Wednesday in the eastern city of Deir el-Zour and the northern village of Maghara.
The Local Coordination Committees reported that the town of Sermin in the northwestern province of Idlib was subjected to shelling in the past days. An Associated Press team in the town witnessed cars run over by army tanks as well as damaged homes and shops.
On Tuesday residents held a funeral for a man they said was beheaded when troops stormed the town on Sunday.
Sheik Moussa, a Sermin resident, said during the funeral: "They are killing people who have nothing to do with all this, who have nothing to do with the situation."
Syria's state-run news agency said three gunmen were killed and others were wounded as they tried to cross from Lebanon into Homs province. The agency said a Syrian soldiers was wounded in the clash.
Also Wednesday, China urged world powers to provide humanitarian assistance to Syria, as Beijing tries to bolster diplomacy while continuing to oppose any armed outside intervention in the conflict.
A Chinese Foreign Ministry spokesman said that Foreign Minister Yang Jiechi broached the idea of assistance in telephone conversations this week with the head of the Arab League and the foreign ministers of Saudi Arabia and Algeria.
China defied Western powers and the Arab League by joining Russia to veto a U.N. resolution that outlined plans to end the conflict and condemned Assad's crackdown on anti-government forces. China was concerned the resolution would pave the way for the West to intervene and unseat an authoritarian government as it had in Libya.