Syrian Resident: People Being 'Slaughtered Like Sheep'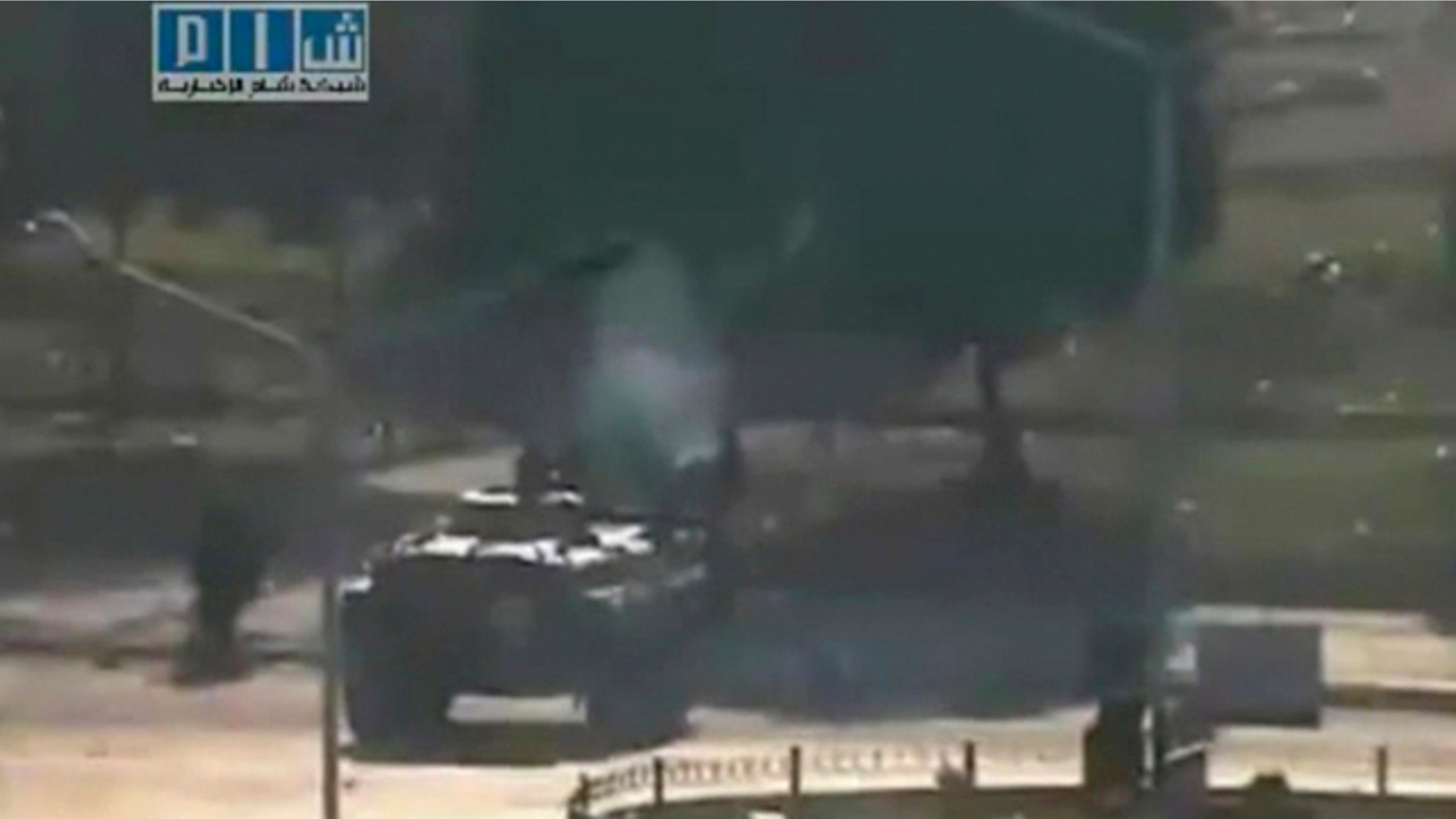 BEIRUT – The flashpoint Syrian city of Hama endured a fifth day under military siege Thursday, with a resident saying people were being "slaughtered like sheep" in the streets and families were burying their dead in home gardens or roadsides rather than risk a trip to a cemetery.
Food supplies grew short and residents shared bread, while phones, electricity and Internet services were cut off or severely hampered.
There was no official count of the dead. One resident said around 250 people have been killed since Sunday. And a rights group that tracks death tallies reported up to 30 people were killed in Hama on Wednesday alone. The tolls could not be verified because of the difficulty reaching residents and hospital officials in the besieged city, where journalists are barred as they are throughout Syria.
One resident said he had seen gunmen in plainclothes randomly shooting people in the streets.
"People are being slaughtered like sheep while walking in the street," said the man, who spoke to The Associated Press by phone on condition of anonymity for fear of reprisals. "I saw with my own eyes one young boy on a motorcycle who was carrying vegetables being run over by a tank."
The assault on Hama, a center of the 5-month-old uprising against President Bashar Assad's iron rule, is among the most ferocious in the government's effort to crush the rebellion -- and a sign of the Syrian leader's defiance of growing international condemnation.
The offensive began Sunday when Syrian security forces backed by tanks and snipers rolled into Hama in a fierce campaign that left corpses in the streets and sent residents fleeing for their lives. On Wednesday, Syrian tanks stormed Hama, taking over a main city square.
Activists, residents and human rights groups say the toll since Sunday ranges from at least 100 to as high as 250. The Local Coordination Committees, which tracks the crackdown, said up to 30 people were killed on Wednesday alone, and 50 were wounded, according to fleeing residents.
It said in a statement that the city was suffering a severe shortage of food and medical supplies and that the military was stopping any aid deliveries.
One Hama resident, reached by the AP on his cell phone after he left the city briefly in search of bread and vegetables, painted a grim picture, saying people were rationing food to get by during the holy month of Ramadan, when many Muslims fast from dawn to dusk then eat large, festive meals after sundown.
He said the army and pro-government gunmen known as "shabiha" were shooting randomly at people and keeping food supplies from entering the city. He said he knew the gunmen were allied with the military because they sometimes walked alongside soldiers and talked to them.
Residents have resorted to burying their loved ones in home gardens or roadside pits "because we fear that if we go to the cemetery, we will end up buried along with them," the resident said. The Local Coordination Committees said many of the dead were also being buried in public parks.
Activists have expressed concern about worsening humanitarian conditions in Hama, saying medical supplies and bread were scarce even before the latest siege.
"There are military operations under way and we warn of grave human rights violations there in view of the siege," said Abdul-Karim Rihawi, the Damascus-based chief of the Syrian Human Rights League.
"A high number of casualties is expected from such a massive military operation," he said.
Rami Abdul-Rahman, who heads the London-based Observatory for Human Rights, said about 1,000 families have fled Hama in the past two days, most to the villages of Mashtal Hilu to the west and al-Salamieh to the east.
The Obama administration moved Thursday to further isolate Assad and his inner circle by imposing sanctions on a prominent pro-regime businessman, Muhammad Hamsho and his firm, Hamsho International Group, freezing all assets in U.S. jurisdictions and barring Americans from doing business with them.
The new penalties, announced by the Treasury Department, did not target Syria's energy sector, something U.S. officials have repeatedly suggested is coming. Officials said sanctions expected to hit state-owned and affiliated oil and gas companies that are a leading revenue source for the government could be unveiled in the coming days.
Until the latest offensive, Hama, a city of 800,000, had fallen largely out of government control since June as residents turned on the regime and blockaded the streets against encroaching tanks.
Located 130 miles north of the capital Damascus, Hama holds special significance for Syrians because of a 1982 massacre that sticks in the collective memory. Assad's father, Hafez Assad, brutally quashed a rebellion by members of the Muslim Brotherhood movement there, sealing off the city in an assault that killed between 10,000 and 25,000 people.
In other parts of Syria, meanwhile, security forces killed at least seven protesters overnight when they went out to demonstrate after special nighttime prayers for Ramadan, activists said.
They included two protesters shot dead in the Damascus neighborhood of Midan, three in the southern village of Nawa and one in the ancient city of Palmyra, according to Rihawi, the Damascus-based rights activist. An 11-year-old boy was also killed when security forces opened fire on a protest in Talbiseh, near Homs. The Local Coordination Committees also confirmed the deaths.
More than 60 Syrian children have died since the start of the protests in March, Rihawi said.
Assad has sought to deal with the extraordinary revolt against his family's 40-year dynasty through deadly force, but has also moved to implement limited reforms.
On Thursday, he issued two legislative decrees that will allow the formation of political parties alongside the Baath Party and enable newly formed parties to run for parliament and local councils.
Both draft bills were endorsed by the Cabinet last month, and were key demands of the opposition movement. But opposition figures now dismiss the moves as maneuvering tactics and insist they want regime change.
Meanwhile, international experts said Syria's Internet did appear to be experiencing limited disruption.
Jim Cowie of the London-based Internet infrastructure monitoring firm Renesys said the issue was "similar but on a much smaller scale" to the full-scale Internet blackout that hit the country on June 3.
He said that of some 60 pools of IP addresses computers use to communicate with the Internet, four or five were out of commission, although it was difficult to know what exactly had been hit. He said it wasn't possible to know the cause of the outages.