Syrian opposition pushes to form interim government for rebel-held areas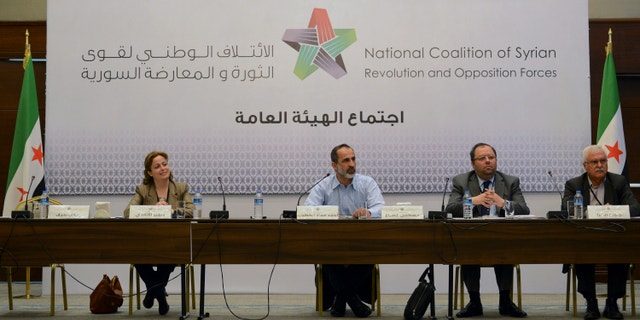 ISTANBUL, Turkey – Syria's main opposition coalition began a push Monday to form an interim government to provide services to people living in parts of the country now controlled by rebel forces.
The effort is the most serious yet by the forces opposing President Bashar Assad to establish a rival administration and bring together all the factions working to topple his government.
They have no guarantee of success. Two previous attempts to form an interim government failed because of divisions within the group, the Syrian National Coalition, and some members said before the meeting Monday that it was unclear whether they would agree this time. Many have also complained of insufficient international support for their initiative.
But many said that members feel a new sense of urgency, as the amount of territory under rebel control has expanded.
"What delayed this before was that there was no agreement on the importance of forming a government," said Burhan Ghalioun, coalition member and former head of its predecessor, the Syrian National Council. "Now people are convinced that a government is necessary."
But in a stance that could frustrate their Western supporters, including the United States, coalition members dismissed any possibility of negotiating with the current regime and insisted they will talk only when Assad has left power. Many believe the only way to accomplish this is through continued advances by rebel forces.
"There has to be a military victory on the ground to convince the regime or some elements in the regime" of the need for change, Ghalioun said. "The solution is not an end to the violence. This is linked to pushing the regime toward steps to a democratic system."
Despite repeated failures to bring about a negotiated solution to the conflict, the United Nations-Arab League envoy to Syria, Lakhdar Brahimi, continues to push for one.
Two years after the anti-Assad uprising began, the conflict has become a civil war, with hundreds of rebel group fighting Assad's forces across Syria and millions of people pushed from their homes by the violence. The U.N. says more than 70,000 people have been killed.
Rebel progress against government forces since last summer has expanded the areas controlled by rebel forces. They now run a large swath of territory along Syria's northern border with Turkey as well as much of the east, near Iraq. This has given them control of much of the city of Aleppo, Syria's largest, and one provincial capital, Raqqa.
Currently, rebel areas are administered by an improvised patchwork of local councils and rebel brigades, many of who run bakeries, security patrols and courts and prisons for criminals and soldiers captured in battle. But more ambitious government services, like electricity supply and running water, are limited.
In the last two months, various members of the coalition, including its head, Mouaz al-Khatib, have visited these areas. Khalid Saleh, the Coalition's spokesman, said these visits made many realized the necessity of an opposition government.
"When they went inside, they felt the severe need for a government because we have large, liberated territories that need administration," he said.
The challenges facing an interim government would be great, both inside and outside of Syria. Coalition members often complain of insufficient international support to allow them to form an effective administration. Such a body could also face fierce resistance from rebel groups fighting on the ground. Most fiercely guard their independence, and likely would not follow any group that could not improve its arms.
Islamic extremist groups have also risen in the rebels' ranks, which could pose a dilemma for the new government. Radical groups like Jabhat al-Nusra, which the U.S. considers a terrorist organization, are among the most powerful forces in many rebel areas, meaning the rebel administration will have to deal with them. This could risk isolating the new body from Western nations.
Salem Al Meslet, a candidate for Prime Minister, said international support will be key.
"If we come up with a government, will this government have the support of the international community?" he said. "This is very important for us."
He said that unifying the rebel forces on the ground would be a priority.
"The first thing to do is to unify all the powers on the ground to be under one management," he said. "We don't want loose weapons here and there."
Twelve candidates have been nominated for Prime Minister, who will be elected by the coalition's 73 members. The vote is expected by Tuesday.
The candidates include prominent Syrian opposition politicians and exile businessmen and academics. Among them are Osama Kadi, the coalition's economic adviser from London, Ontario in Canada; Ghassan Hitto, a longtime IT manager who recently moved from Dallas, Texas to Turkey; Assad Asheq Mustafa, a former Syrian agriculture minister and former governor of Syria's central Hama province, and Walid al-Zoabi, a real estate entrepreneur from Dubai.
Some coalition members suggested that, if they could not agree, they could create a collective leadership in the form of an executive commission.