Syrian opposition makes new push to unite, as 85 Syrian soldiers reportedly defect to Turkey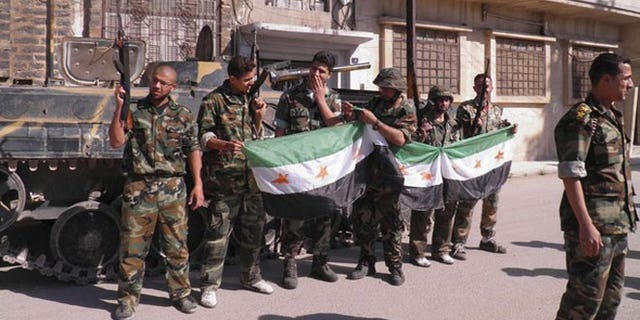 ANKARA, Turkey – The Arab League chief urged exiled Syrian opposition figures to unite at a meeting Monday as a new Western effort to force President Bashar Assad from power faltered. Another 85 soldiers including a general fled to Turkey in a growing wave of defections.
Turkey's state-run Andolou news agency said the group of defectors also included 14 other officers, ranging from one colonel to seven captains. It is one of the largest groups of Syrian army defectors to cross into Turkey since the uprising against Assad began.
The stakes are high for calming the crisis in Syria, which NATO Secretary-General Anders Fogh Rasmussen on Monday called "one of the gravest security challenges the world faces today."
But more than one year into the Syrian revolt, the opposition is still hobbled by the infighting and fractiousness that have prevented the movement from gaining the kind of political traction it needs to present a credible alternative to Assad.
"There is an opportunity before the conference of Syrian opposition today that must be seized, and I say and repeat that this opportunity must not be wasted under any circumstance," Arab League chief Nabil Elaraby told nearly 250 members of the Syrian opposition at the opening of the two-day conference in Cairo.
"The sacrifices of the Syrian people are bigger than us and more valuable than any narrow differences or factional disputes," he said.
Nasser Al-Kidwa, deputy to U.N. special envoy Kofi Annan, said that unity of purpose and vision was "not an option, but a necessity if the opposition wants to bolster its popular support and trust and increase international support."
The divisions are tied to issues at the heart of the revolution: Whether to seek dialogue with the regime, whether outside military intervention is needed and what ideology should guide a post-Assad Syria.
Unlike Libya's National Transitional Council, which brought together most factions fighting Moammar Gadhafi's regime and was quickly recognized by much of the international community, Syria's opposition has no leadership on the ground.
Regime opponents inside and outside Syria are a diverse group, representing the country's ideological, sectarian and generational divide. They include dissidents who spent years in prison, tech-savvy activists in their 20s, former Marxists and Islamists.
Communication between those abroad and those in the country is extremely difficult. Political activists in Syria are routinely rounded up and imprisoned. Many are in hiding, communicating only through Skype using fake names, and the country is largely sealed off to exiled dissidents and foreign journalists.
The Cairo conference brought together various opposition groups -- including the Syrian National Council and the National Coordination Body for Democratic Change in Syria -- to try to agree on a united front to represent them, as well as to work out a transition plan for how to end to the conflict.
However, the main rebel group fighting Syrian government forces on the ground, the Free Syrian Army, was not represented at the talks. Faiz Amru, a member of the Joint Military Command, which is affiliated with the FSA, said the Cairo meeting was purely political, so rebels were not invited.
Besides the conference in Cairo, opposition members also plan to meet Russian officials later this month, a Russian news agency reported. But the Moscow talks are significant because the Kremlin is Syria's most important ally, protector and supplier of arms.
Diplomatic hopes have rested on persuading Russia to agree to a plan that would the Assad family dynasty, which has ruled Syria for more than four decades.
Moscow's determination to preserve its last remaining ally in the Middle East has blocked efforts by the U.S. and other Western powers to force Assad out.
World powers at a conference in Geneva on Saturday accepted a U.N.-brokered plan calling for the creation of a transitional government with full executive powers in Syria. But at Russia's insistence, the compromise left the door open to Assad being part of the interim administration.
Some Syrian opposition groups have rejected the plan, calling it ambiguous and a waste of time and vowing not to negotiate with Assad or members of his "murderous" regime.
However, the National Coordination Body for Democratic Change in Syria said Monday that the plan is the best way to ensure a political transition that avoids a full collapse of the Syrian state.
Elaraby, who has held private meetings with Syrian opposition figures at the League's headquarters in the past, said the agreement did not meet Arab expectations because it did not specify a time frame for a "clear transition" as the League had called for.
The U.S. backed away from insisting that the plan should explicitly call for Assad to have no role in a new Syrian government, hoping the concession would encourage Russia to put greater pressure on its longtime ally to end the regime's violent crackdown.
The conflict has killed more than 14,000 people since the revolt began in March 2011, according to opposition estimates. The fighting has grown increasingly militarized in recent months, with rebel forces launching attacks and ambushes on regime targets.
Thousands of soldiers, most of them low-level conscripts, have deserted and joined the rebels. The 85 soldiers who crossed over to Turkey on Monday followed 33 others, including a general and two colonels, who did the same a week earlier, in a sign that high-level defections appear to be increasing.
Although the defections are notable, Assad's regime has remained remarkably airtight, particularly compared with the hemorrhaging of Gadhafi's inner circle in Libya in 2011.
Assad has refused to budge, saying his country is at war with terrorists -- the term he uses for his armed opponents. On Monday, he ratified a new terrorism law that includes a clause specifically aimed at the opposition. Under the law, the penalty for terrorism that aims to change the regime would exceed 20 years of hard labor.
As the conflict drags on, concerns are mounting that the violence will spiral outside the country's borders. Tensions already are running high between Damascus and Ankara after Syria shot down a Turkish military plane on June 22.
Syria said the jet violated its airspace, but Turkey says the aircraft was shot down over international waters.
Turkey responded by setting up anti-aircraft guns along the frontier and said Monday it dispatched fighter jets to its border after Syrian helicopters flew too close to the frontier for a second day on Sunday.
In Brussels on Monday, Fogh Rasmussen said the Syrian regime "has lost all humanity and all legitimacy." But there is little appetite for the type of military intervention that helped topple Libya's Gadhafi, in part because there is no real opposition to get behind.
The international community is also hesitant to get involved in another country in turmoil.
"Every member of the international community should use its influence and spare no effort to bring an end to the bloodshed and move Syria forward," he said. "This conflict has already gone on for too long. It has cost too many lives, and put the stability of the whole region at risk."