Syrian opposition chief renews offer of talks with Assad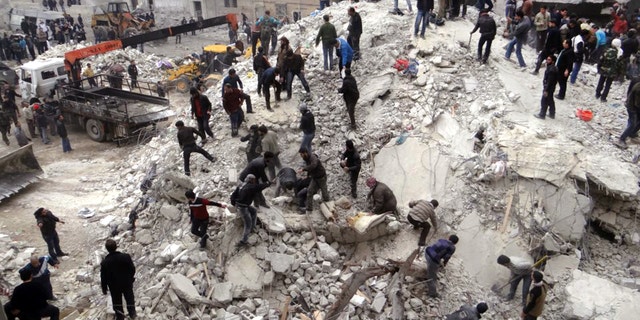 DAMASCUS, Syria – The leader of Syria's main opposition group called Monday on President Bashar Assad to respond to his overture for a dialogue to save the country from complete destruction.
Mouaz al-Khatib, the head of the Syrian National Coalition, said he is extending his hand "to facilitate the peaceful departure" of the regime and called on Assad to begin releasing tens of thousands of political prisoners as a precondition.
Al-Khatib said last week he is willing to hold talks with the regime in Egypt, Tunisia or Turkey if that would help end the bloodshed. His offer marked a departure from the mainstream opposition's narrative insisting that Assad step down before any talks.
He renewed his offer Monday in an interview with Qatari-based Al-Jazeera television and said he was placing the ball in Assad's court.
"We say to the Syrian leadership, let us search for an exit for the crisis before Syria gets destroyed even more," he said.
"The regime has to take a clear stance and we will extend our hand for the sake of our people and in order to facilitate the peaceful departure of the regime," he added.
Al-Khatib met separately with Russian, U.S. and Iranian officials on the sidelines of a conference on security in Munich over the weekend.
There has been no comment from Syrian officials on al-Khatib's initiative last week or his latest comments.
A senior Iranian official visiting Damascus appeared to voice support for al-Khatib's call for dialogue, without naming him.
"We welcome any initiative that leads to dialogue," said Saeed Jalili, the head of Iran's National Security Council. He said the talks should be held in Damascus.
Jalili also commented on an airstrike on Syria last week, saying Israel will regret conducting it. He urged the entire Muslim world to be ready to defend the Syrian people.
"Just as it regretted its aggressions after the 33-day, 22-day and eight-day wars, today the Zionist entity will regret the aggression it launched against Syria," Jalili told a news conference in Damascus. He was referring to past wars between Israel and Hezbollah or the Palestinian Hamas rulers of Gaza.
"The Islamic world will not allow aggression against Syria," he said. "Syria stands on the front line of the Islamic world against the Zionist regime. ... The Islamic world must react appropriately to the Israeli aggression."
Iran is Syria's closest regional ally and Jalili used his 3-day visit to pledge Tehran's continued support for the President Bashar Assad's regime
Israel has all but confirmed it was behind the airstrike near Damascus last week. U.S. officials said the Israelis struck a military research center and a convoy next to it carrying anti-aircraft weapons destined for the Islamic militant group Hezbollah in neighboring Lebanon.
Syria said has vowed to retaliate.