Syrian government agrees to take part in peace talks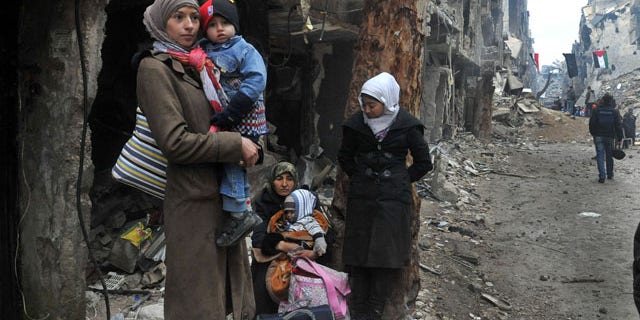 BEIRUT – The Syrian government announced Friday it will take part in a second round of peace talks in Geneva next week, as a first batch of civilians prepared to leave besieged rebel-held areas in a battleground Syrian city under an evacuation deal struck with the United Nations.
The Syrian opposition has also said it will take part in the second round of talks. The first was adjourned with no signs of progress on Jan. 31.
The negotiations aim to broker a political solution to Syria's civil war. The nearly three-year conflict has killed more than 130,000 people, forced more than 2.3 million to seek refuge abroad, and sent sectarian tensions soaring across the region.
State TV quoted Deputy Foreign Minister Faisal Mekdad as saying that the government delegation will head to the talks scheduled to resume on Monday in Geneva.
Also Friday, the governor of the central Syrian province of Homs said the evacuation of civilians from besieged rebel-held neighborhoods in the provincial capital is expected to begin "within hours."
Homs Governor Talal Barrazi told Syrian state TV that all necessary security precautions were taken for the evacuation in Homs city. It will not include men between the age of 15 and 55, those most likely to be fighters.
Barrazi says the first batch of about 200 civilians will leave the rebel-held neighborhood of Jouret el-Shayah. He said those who will leave can go wherever they want adding that "the governorate has prepared a shelter that can take up to 400 people."
President Bashar Assad's government announced Thursday that it reached an agreement with the United Nations to let hundreds of trapped civilians leave besieged parts of Homs and permit U.N. humanitarian relief convoys to enter.
Around noon on Friday, about half a dozen U.N. SUVs, nine buses and two Red Crescent ambulances drove from government held areas toward a neighborhood under rebel control. They were expected to bring out civilians.
In New York, U.N. deputy spokesman Farhan Haq said the U.N. and humanitarian organizations have food, medical aid and other basic supplies on the outskirts of Homs ready for immediate delivery as soon as "the green light" is given for safe passage.
"The atmosphere is positive" Barrazi said adding that the first batch of food supplies will be sent to rebel-held areas on Saturday.
In the northern city of Aleppo, Syria's largest, government forces launched a counteroffensive against rebels who stormed parts of the city's central prison and regained much of the area, the Britain-based Syrian Observatory for Human Rights.
The group said two days of fighting left 20 government troops and 17 rebels dead.