Syrian Activists Say at Least 100 Killed in Protests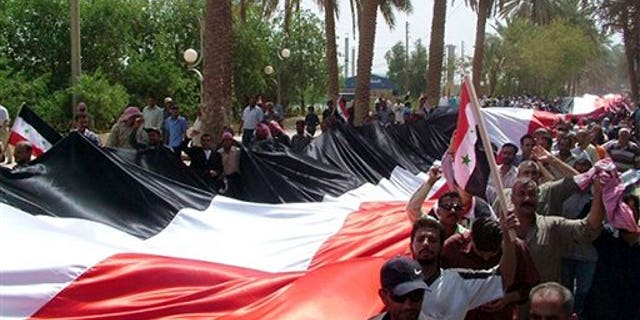 Beirut – The Syrian army reportedly killed at least 100 people Sunday during an attack on the flashpoint city of Hama, as an uptick of gunfire left bodies scattered in the streets, according to various news reports from the region. There has been an escalation of the crackdown on protests ahead of the Muslim holy month of Ramadan, activists and residents said.
Demonstrations calling for President Bashar Assad's ouster are expected to swell during Ramadan, which starts Monday, in Syria. Security forces appeared to be racing against time as they stormed and raided cities and small villages across the country in an attempt to crush a remarkably resilient uprising that began in mid-March.
The AFP reports that the official SANA news agency said two security forces officers were killed Sunday by "armed groups."
"Two law enforcement members were martyred by armed groups in Hama who set police stations on fire, vandalized public and private properties, set up roadblocks and barricades and burned tires at the entrance of the city and in its streets," AFP reported, citing an English-language report on the SANA website.
The Syrian protests, which began in earnest in March, seek to dismantle the repressive rule by the Assad family. They appeared to be inspired by the Arab Spring uprisings seen in nearby Egypt and Tunisia.
"Hama is used to massacres by the Assad family, but we tell this tyrant the more you kill us the more we are determined to oust you," an activist said, according to Haaretz.com, citing the German Press Agency.
British Foreign Secretary William Hague said the attacks against civilians were "all the more shocking" on the eve of Ramadan and appeared to be part of a "coordinated effort to deter Syrians" from protesting during Ramadan.
President Obama issued a statement Sunday saying he is "appalled" by the violence and brutality the Syrian government has aimed at its own people. He calls the reports from Hama "horrifying" and says they demonstrate the true character of the Syrian regime.
Other raids were reported in southern Syria and in the suburbs of the capital Damascus. In the neighborhood of al-Joura in the eastern city of Deir el-Zour, soldiers in tanks fired machine guns, killing at least seven people, activists said.
An estimated 1,600 civilians have died in the crackdown on the largely peaceful protests against President Bashar Assad's regime since the uprising began. Most were killed in shootings by security forces on anti-government rallies.
The Associated Press contributed to this report.