Syrian activists report wave of violence in Hama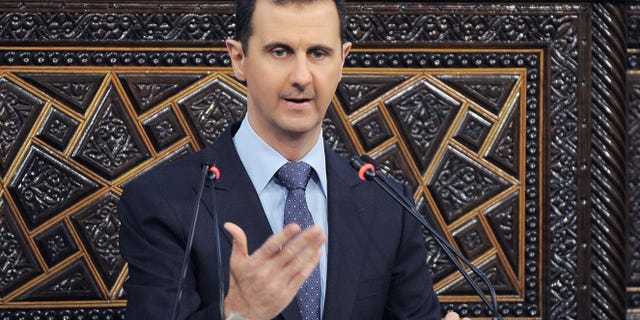 NEWYou can now listen to Fox News articles!
BEIRUT – Syrian activists reported a surge of bloodshed in the central Hama province late Wednesday, with at least 23 people killed — and possibly many more.
The reported mass killings are likely to ignite more anger nearly two weeks after the massacre of more than 100 people elsewhere in Syria as an international peace plan unravels and the country spirals toward civil war.
The exact circumstances of the violence in Hama were impossible to independently confirm.
Rami Abdul-Rahman, the head of the Britain-based Syrian Observatory for Human Rights, said he had gathered the names of 23 people killed in shelling and other attacks. But the Local Coordination Committees, an activist group, said at least 86 were dead.
Abdul-Rahman called on U.N. observers to visit the area immediately.
"Do not wait until tomorrow in order to investigate this latest massacre," he said.
Hama was the site of a notorious massacre in 1982, when Assad's father and predecessor, Hafez, ordered the military to quell a Sunni rebellion. Amnesty International has estimated that between 10,000 and 25,000 people were killed in the siege, though conflicting figures exist and the Syrian government has never made an official estimate.
Activists say as many as 13,000 people have been killed in Assad's crackdown against the anti-government uprising that began in March 2011 with mostly peaceful protests but morphed into an armed insurgency amid a violent regime crackdown.
The violence in Syria has grown increasingly chaotic in recent months, and it is difficult to assign blame for much of the bloodshed. The government restricts journalists from moving freely, making it nearly impossible to independently verify accounts from either side.
Wednesday's reports of violence in Hama came on the heels of a horrific massacre on May 25 and 26 in Houla, a cluster of villages in the central Homs province. Although Syria has seen relentless violence for more than a year, the Houla massacre stands out for its sheer brutality. Many of the dead were women and children who were gunned down in their homes.
U.N. investigators have blamed pro-government gunmen for at least some of the killings. The Syrian regime has denied responsibility and blamed rebels for the attacks.
The international community has condemned Assad over the crackdown, but the U.S. and its allies have little leverage in Syria.
Western leaders have pinned their hopes on diplomatic pressure by special envoy Kofi Annan, with the U.S. and others unwilling to get deeply involved in another Arab nation in turmoil — particularly one as unpredictable as Syria.
The conflict is among the most explosive of the Arab Spring, in part because of Syria's web of allegiances to powerful forces including Lebanon's Hezbollah and Shiite powerhouse Iran.
Russia and China had blocked strong action by the U.N. Security Council, giving Assad a significant layer of protection as his crackdown continues. Both countries are adamant that no international military intervention occur in Syria.
Still, the Obama administration is warning Syria that U.N. sanctions may be near, as Secretary of State Hillary Rodham Clinton heads Wednesday to Turkey to talk strategy with America's allies and look for a way to win Russia's support for a transition plan ending the Assad regime.
Russia and China, however, issued a joint statement reiterating their opposition to any imposing of "regime change" in the violence-wracked country.
The warning was delivered by Treasury Secretary Timothy Geithner, who called for the world to exert "maximum financial pressure" on Assad's government. He argued that "strong sanctions can help hasten the day the Assad regime relinquishes power," but acknowledged that financial and diplomatic penalties alone cannot bring the needed political change.
Assad says he is fighting a conspiracy to destroy the country, carried out by terrorists and foreign extremists.
Al-Qaida-style suicide bombings have become increasingly common in Syria, and Western officials say there is little doubt that Islamist extremists, some associated with the terror network, have made inroads in Syria as instability has spread.