Syria: Violence and refugee plight worsening despite diplomatic deals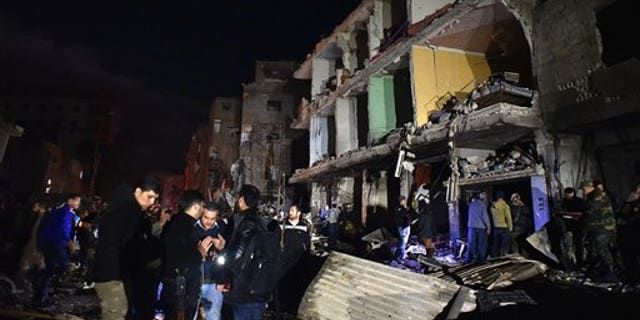 While the U.S. and Russia have announced "preliminary agreement" on the "cessation of hostilities" in Syria, humanitarian workers warn that the violence on the ground remains unchecked, and the situation is worsening for tens of thousands of additional Syrians being forced to flee as a result.
Nor, they report, has the highly publicized entry of a small number of United Nations-sponsored relief convoys into a few of many areas besieged by the regime of Bashar Assad made much of a difference.
The escalating violence has made other avenues for filtering relief into embattled Syrian territory extremely difficult and dangerous, and the initial U.N. convoys have so far not been followed by any others.
"We have not seen a cease-fire on the ground," Christy Delafield, a spokesperson for the U.S.-based international aid organization Mercy Corps, told Fox News.
Her organization says that it is providing humanitarian aid to some 500,000 Syrians monthly without the supervision of the Russian-supported Assad regime, but that is growing more and more difficult.
"The situation is not good," she said. "The violence continues. We are looking at an intensification of the conflict, not a cessation of hostilities."
As a result, aid organizations like Mercy Corps face greater and greater difficulty in getting supplies to areas of the country where regime sanctions supplies do not go -- a subject of growing criticism for the U.N., which carries out relief operations under the sanction of Assad.
"We have been cut off from the safest and most direct routes for delivery," Delafield reported. "There are bombs on the road that we do use. It is really dangerous." Mercy Corps says that two of its off-duty aid workers were killed in recent bombing attacks, and two persons killed and 20 injured in a bombing assault near an aid distribution point.

"We have not seen a cease-fire on the ground."
As a result of the increasing military pressure, there has been a dramatic hike in the number of northern Syrian refugees headed for camps on the border with Turkey, and also in other areas of the country where regime attacks have increased.
"Displacement camps near the Turkish border doubled to 65,000 people since January," Delafield reported. "Now there are 75,000 people there, with 27,000 living outside camps, sometimes in mosques and schools."
"Shelter is incredibly hard to come by," she said. "We are desperately trying to get tarps in. It is very challenging."
The new refugee flood is producing other desperation issues, including how to provide and maintain latrines and other sanitary facilities for the ballooning refugee populations, to prevent wildfire outbreaks of disease.
The rising populations on the move are straining humanitarian aid in other ways as well. Delafield says that Mercy Corps has "shifted from our standard relief food kit -- which requires a kitchen -- to a ready-to-eat kit that only lasts for two weeks, and is more expensive."
The switch to different rations also has put a sudden strain on the new kinds of supplies. "There are not a lot of these around," she says.
For its part, the U.N.'s World Food Program, which led the recent relief convoys to a scattering of areas where starving residents have been without outside food supplies for months, says it is working hard to meet the same relief surge.
A WFP spokesperson said the U.N. organization has distributed food rations for almost 74,000 people in the camps and itemized a list of staples as well as ready-to-eat supplies.
"We are sending additional ready-to-eat rations to cover the needs of up to 45,000 more people should displacements continue in the coming days," the spokesperson added.
The relief convoys that finally proceeded to besieged areas with Assad government approval brought supplies for 81,000 people that are intended to last for a month, the WFP spokesperson said.
But efforts so far for other besieged areas -- there are at least 15 on a by-no-means exhaustive list -- have not achieved anything so far.
The WFP spokesperson told Fox News that the U.N. organization has gotten permission from the Damascus regime to send relief aid to two other besieged areas, one in rural Damascus and the other in Deir Ezzor, a medium-sized city near Iraq.
But even with formal permission, the spokesman noted, "the two areas have not been scheduled yet. We are working on the logistical arrangements for both."
Meantime, she said, WFP, like the non-government aid organizations, is growing "very concerned because access to eastern Aleppo city is getting more and more difficult due to ongoing fighting close to the road that provides access to the city."
She added that "WFP has started sending a two-month supply of food stocks to the city to cover the needs of over 100,000 people."
That aid, however, largely flows through channels that depend on agreement by the Assad government.
While lauding the U.N. relief convoys to a scattering of areas where starving residents have been without food supplies for months, Mercy Corps spokesman Delafield observes that "the need is desperate not just in areas that the U.N. designates as besieged. Their residents deserve no less assistance."
"We need sustained humanitarian access, everywhere."
Not to mention an end to military assaults that so far, still seem endless.
George Russell is editor-at-large of Fox News and can be found on Twitter: @GeorgeRussell or on Facebook.com/GeorgeRussell