Syria used banned chemical weapons in Sunday gas attack, officials say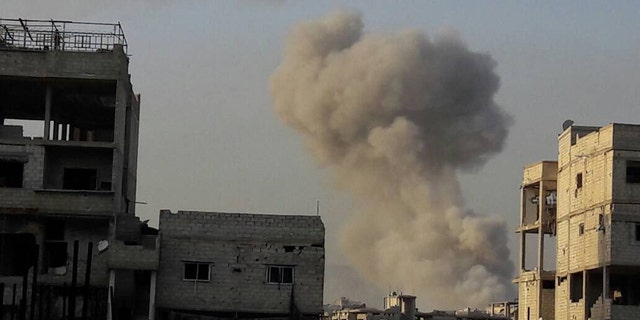 Amnesty International has accused the Assad regime of showing "utter contempt" of international law following a chlorine gas attack on the town of Saraqib Sunday. This latest chemical attack comes just one day before the U.N. Security Council failed to agree on a U.S.-proposed statement Monday condemning the continued use of chemical weapons in the war-torn nation. Russia was blamed by some diplomats for its failure.
Amnesty International, in a press release issued earlier Tuesday, said that testimony gathered from the scene showed evidence that the Syrian government internationally used banned chemical weapons.
"Once again, Syria's government has shown its utter contempt for international law by deploying illegal chemical weapons," Lynn Malouf said in the press release. Malouf is the Director of Research for the Middle East at Amnesty International.
Meanwhile, another Syrian opposition group has claimed that yet another attack happened Tuesday by an armed militia supported by the Assad regime. That attack, they claim, occurred in Afrin and injured 20 people, seven of them seriously. They claim the Assad-linked group used chlorine gas, something Fox News has not independently been able to verify at time of publication.
Opposition groups have accused Russia, which has stepped up its bombing campaign in the last few days, of clearing the way for the Syrian regime to use chemical weapons by bombing specifically targeted routes.
Wasim Al-Khatib is the director of the office for documentation and media based in Ghouta. He answered email questions through an interpreter given by Fox News to the Syrian American Council.
"Russian Airplanes have not left the skies of East Ghouta," he said. "I watched more than three airplanes going specifically after civilians and after civilian marketplaces."
He continued, "I also watched missiles that look like they were made locally being dropped carrying chemicals targeting civilians specifically in Douma, another city in the suburbs of Damascus. The fear is difficult to comprehend. Women and children are running in chaos."
"Injured are all over the place with blood all over. A very scary scenes after such a civilian massacre. And then once people gather to rescue, the airplanes come back to target the rescuers."
"The smell of chlorine is all over. Watching people take their last breath is very disturbing. I cannot tell you what it feels to watch all these things happening at once. I'm at a loss," Al-Khatib said.
This weekend a Russian pilot was killed after his Su-25 plane was shot down over Idlib by an Al Qaeda-affiliated terrorist group. In response Russian and Syrian forces reportedly have continued with severe air strikes in Idlib and other areas, which activists say resulted in many deaths. The attacks also reportedly include strikes on medical facilities.
Bassam Rifai of the Syrian American Council called on the Trump administration to take more action to save Syrian civilians following the recent spate of chemical attacks.
"President Trump showed laudable leadership in striking the Shayrat Airbase after the Khan Shaykhun chemical massacre in April. It is therefore surprising that he has not even made a statement regarding the recent chemical attacks. These ongoing attacks are a direct violation of the 2013 chemical deal and merit a direct response from the White House. The president himself should address these attacks to show that they are a matter of priority and urgency at the highest levels."
A day after the Security Council failed to condemn chemical weapons use in Syria, Britain's deputy United Nations Ambassador Jonathan Allen told reporters that reports of increased attacks on medical facilities "is clearly unacceptable. The U.N. Commission of Inquiry Report said recently, any attacks on medical facilities are, of course, a violation of international humanitarian law. And it seems that that's exactly what pro-regime forces are doing, so we call on the regime and those with influence over them to stop all such attacks. It is outrageous."
It was just Monday when an American-led push to condemn the use of chemical weapons was withdrawn. One Security Council diplomat told Fox News: "Russia added unhelpful amendments that diverted from the main purpose of the statement, which was to condemn the chemical weapons attacks. For example, they called on Syria to play a primary role in the investigations. The United States withdrew the text."
At Monday's Security Council meeting, United States Ambassador Nikki Haley condemned Russia for propping up the Syrian regime. Haley told fellow councilmembers that it was "a true tragedy that Russia sent us back to square one in the effort to end chemical weapons use in Syria."
Russia has vetoed three Security Council draft resolutions that eventually killed off the joint U.N. Security Council and Organization for the Prohibition of Chemical Weapons (OPCW) investigation known as the Joint Investigative Mechanism (JIM) to investigate the perpetrators of chemical attacks in Syria. The JIM had found that both the Assad regime and ISIS had used chemical weapons.