Syria rebels claim to have shot down army helicopter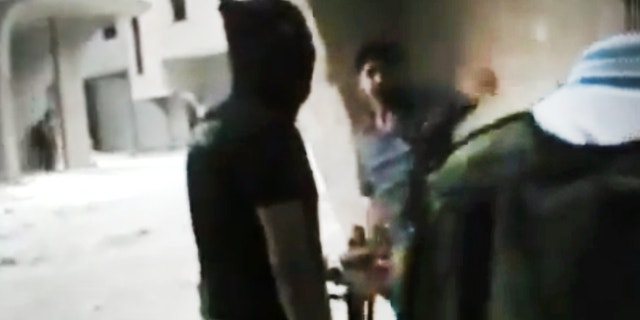 BEIRUT – Syrian government forces backed by helicopter gunships battled rebels in heavy clashes with rebels in Damascus, a clear escalation in the most serious fighting in the capital since the country's conflict began last year, activists said.
The fierce clashes, which have raged over the past three days in at least four neighborhoods across the city, were the latest sign that Syria's civil war is moving ever closer to the heart of President Bashar Assad's regime. Government forces have already thrown tanks and armored personnel carriers into the battle in the capital, but the use of airpower reflected the intensity and seriousness of the fighting.
The Britain-based Syrian Observatory for Human Rights and Damascus-based activist Maath al-Shami said the clashes Tuesday were concentrated in Kfar Souseh, Nahr Aisha, Midan and Qadam.
"I can hear cracks of gunfire and some explosions from the direction of Midan," al-Shami told The Associated Press via Skype. "Black smoke is billowing from the area."
Rebels claim to have shot down an army helicopter over the Damascus district of Qaboun, Reuters reports.
"Helicopters are flying at low altitude. It's easy to target them using anti-aircraft weapons," a senior rebel officer told Reuters.
Syria's state-run news agency said Tuesday that troops were still chasing "terrorist elements" who had fled from Nahr Aisha to Midan. Syria refers to its opponents as terrorists.
An amateur video showed two armored personnel carriers with heavy machineguns on top along with troops who were said to be advancing in an empty road toward Midan on Tuesday.
Activists have dubbed the fighting in the capital the "Damascus Volcano" in what appears to be an attempt to bring the fighting into Syria's seat of power.
The clashes are the most sustained and widespread in the capital since the start of the uprising against Assad in March last year and a crackdown that activists say has claimed the lives of more than 17,000 people. In the past, clashes happened at night in the capital. Now, the fighting rages during the day.
Damascus -- and Syria's largest city, Aleppo -- are both home to elites who have benefited from close ties to Assad's regime, as well as merchant classes and minority groups who worry their status will suffer if Assad falls.
As the violence has spiraled out of control, diplomatic efforts to halt the bloodshed have faltered, with world powers still deeply divided over who is responsible and how to stop the fighting. The U.S. and many Western nations have called on Assad to leave power, while Russia, China and Iran have stood by the regime.
U.N. chief Ban Ki-moon was headed to China on Tuesday as part of a diplomatic push to get Russia and China to back a tougher response to attacks by Assad's regime. Ban's trip comes ahead of a U.N. Security Council vote this week. A Western-backed resolution calls for sanctions and invokes Chapter 7 of the U.N. Charter.
A Chapter 7 resolution authorizes actions that can ultimately include the use of military force, which U.S. administration and European officials -- for now -- are playing down as a possibility.
Ban was to hold talks with Chinese President Hu Jintao on Wednesday, with Syria expected to top the agenda.
U.N. special envoy Kofi Annan, meanwhile, was to meet with Russian President Vladimir Putin in Moscow to discuss the conflict.
In Tehran, Iranian Foreign Ministry spokesman Ramin Mehmanparast warned against foreign intervention in Syria. Iran, one of Syria's strongest allies, offered to mediate and host a meeting between Syrian government and rebels to help resolve the conflict.
"Iran is prepared to use all its capacities to resolve the crisis in Syria," Mehmanparast told reporters Tuesday.
The Syrian opposition is unlikely to accept Iran, which has provided Assad with military and political backing for years, as a mediator.
The Observatory and al-Shami said helicopters fired heavy machine guns during overnight clashes in the neighborhoods of Qadam and Hajar al-Aswad.
Another activist in the capital, who asked to be identified only as Bayan because of fear for his safety, said troops fired mortar rounds at the neighborhoods of Qaboun and Jobar, causing a major fire near Jobar's Grand Mosque.
"People are trying to extinguish the fire with water hoses or buckets filled with water," Bayan said via Skype. She added that government troops had set up checkpoints around Damascus in response to the violence, and were searching cars and asking for passengers' identity cards.
Al-Shami said residents of hard-hit areas were fleeing to safer neighborhoods where they were staying at schools and mosques. He added that many of the wounded were being treated at secret hospitals for fear they might be detained if taken to official ones in Damascus.
The Local Coordination Committees activist group reported heavy shelling of rebel-held areas in the central province of Homs where they said there were casualties.
As the violence has escalated, the number of Syrians fleeing the bloodshed has swelled to some 112,000, the United Nations said Tuesday. The U.N. refugee agency said women and children make up three-quarters of those whom it has assisted or registered in Iraq, Jordan, Lebanon and Turkey.
Late Monday, Turkey said it will build a new refugee camp for Syrian refugees that could accommodate 10,000 people. The state-run Anadolu agency said 525 people crossed the border into Turkey late Monday, including a general and four colonels.
Turkey's government-run crisis management center said a new camp is being set up near the town of Karkamis, in Gaziantep province which borders Syria. Nearly 40,000 refugees are currently being sheltered in 10 camps near Turkey's 566-mile border with Syria.
The Associated Press contributed to this article.