Syria pro-regime militia kills reconciliation team: NGO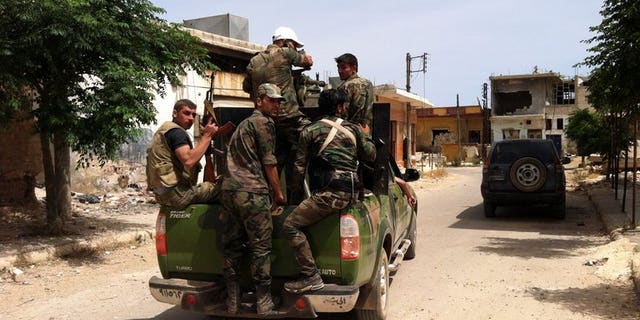 BEIRUT (AFP) – Members of a Syrian pro-regime militia gunned down seven Sunni men working on reconciliation in the central province of Homs overnight, the Syrian Observatory for Human Rights said on Tuesday.
Clashes broke out, meanwhile, between Kurdish fighters and the radical Islamist Al-Nusra Front in northern Syria's Ras al-Ain, said the group.
"Seven men belonging to a reconciliation committee, including two retired officers and the imam of a mosque in the town of Zara... were killed yesterday by members of the People's Committee," the group said, referring to a pro-regime armed group.
Regime-authorised reconciliation teams have sprung up across Syria, working on grassroots mediation and negotiated truces in various areas.
The team targeted on Monday had successfully mediated before, the Observatory said, and was working to smooth ties between Sunnis and Alawites in religiously mixed Homs.
Many Sunnis in Syria back the Sunni-led uprising against President Bashar al-Assad, who is Alawite, and the conflict has led to increasing sectarian tensions in the country, especially in Homs.
The Observatory said the group of mediators was on their way to a meeting in the town of Tal Kalakh.
They were killed at the entrance to the Alawite village of Hajar al-Abyad, which the Observatory described as "one of the most important strongholds for the shabiha (pro-regime militants) in the region".
The group distributed a video showing black body bags tagged with pieces of paper bearing each man's name.
Elsewhere, Kurdish fighters took control of the political intelligence building in Ras al-Ain in the northern province of Hasakeh, after fierce clashes pitting Kurds against Al-Nusra Front, said the Observatory.
The clash broke out after Al-Nusra detained a Kurdish fighter, said the group.
The violence comes amid soaring tensions between mainstream rebels and groups loyal to Al-Qaeda, among them Al-Nusra.
Meanwhile, in the southern province of Daraa, "opposition fighters seized control of 10 army checkpoints in the town of Nawa, while clashes raged on near the town's remaining checkpoints", said the Observatory.
In Quneitra, also in southern Syria, fierce clashes pitting troops against rebels broke out in the village of Qahtaniya, which lies in the Syrian-held section of the Golan Heights, said the group.
Israel's army has said shells have fallen into the Israeli-annexed section of the Golan.
In Damascus province, nine Syrians, including a child, were executed by regime forces at a checkpoint in Damascus province on Monday.
The nine were "executed" at a military checkpoint in the area, the Observatory said, citing activists in the area.
More than 100,000 people have been killed in Syria since an uprising erupted against the rule of Assad in March 2011, according to the Observatory's figures.