Syria jihadists lose support as abuses mount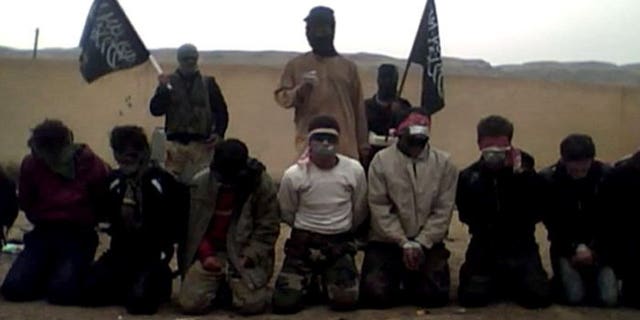 BEIRUT (AFP) – In the early days of the Syrian uprising, when opponents of the regime were desperate for assistance from any quarter, jihadist fighters were welcomed but a spate of abuses is fuelling a backlash.
Things have changed.
"Out, out, out, the (Islamic) State (of Iraq and Syria) must get out," protesters shouted at a rally in the northern town of Manbij this week, referring to an Al-Qaeda front group.
The video of the demonstration is one of many showing how civilians and mainstream rebel fighters alike are turning against the more hardline Islamist factions.
The rebel forces seeking to overthrow President Bashar al-Assad are disparate but many espouse political Islam of one form or another.
There are two main Al-Qaeda linked factions, both with Iraqi origins, according to Washington -- the Al-Nusra Front, which has operational independence, and the Islamic State of Iraq and Syria (ISIS), a front for Al-Qaeda in Iraq.
Numerous other smaller groups, many of them composed almost exclusively of foreign fighters, are also operating on the ground.
Unlike the mainstream rebel Free Syrian Army, which has received weapons from several Gulf Arab governments as well as promises of US arms, the jihadist groups rely on private donations.
But there are enough wealthy benefactors attracted to their fundamentalist vision to ensure a steady stream of weapons, as well as volunteer fighters from around the world, many of them seasoned in other conflicts.
That has helped them become a fighting force out of proportion to their numbers, and they have captured several population centres.
But their imposition of their extreme form of Islam has increasingly alienated civilians.
In Raqa, the only provincial capital in rebel hands, the Al-Nusra Front is accused of detaining dozens of men.
"My father has been held for a month by the Front. They think they're Islamic... I want my father to be free," weeps a little girl in one Raqa protest, footage of which was posted online.
"We reject this oppressive brand of Islam... We are Muslims. You're just fakes," a woman protester cried in another video from Raqa, demanding the release of the men held by Nusra.
Activists in the city also point to the disappearance of Abdallah al-Khalil, a veteran dissident and human rights activist.
"Khalil was about to open up council elections to the whole of Raqa. Al-Nusra was against the idea. He disappeared the next day," an activist from Raqa told AFP, speaking on condition of anonymity for fear of retaliation.
"Although their methods differ from the regime's, they are just as brutal.
"As they get more powerful militarily, they do whatever it takes to stem the growth of freedom in liberated (rebel-held) areas. They want power, not democracy."
Reports emerged on Wednesday that a Raqa-based activist who has documented the uprising against Assad since its early days has been detained by ISIS.
"The Islamic State of Iraq and Syria detained the media activist Mohammad Nour Matar on Tuesday evening outside its base... after he stood alongside a woman who tried to stage a sit-in," Matar's brother Amer told AFP.
In Idlib province in the northwest, whose borders with Turkey have allowed foreign jihadists to join the fighting in numbers, dozens of mainstream rebels were killed in a battle with ISIS last week, the Syrian Observatory for Human Rights said.
The fighting broke out after rebels protested against the detention by the jihadists of a 12-year-old boy accused of uttering a blasphemous phrase.
"The chief of the (Free Syrian Army-affiliated) Hamzah Assadullah Brigade and his brother were both killed" in the fighting, the Britain-based watchdog said.
"We haven't seen many such battles, but it is clear the anger against the Islamic State and other jihadists is on the rise across Syria," its director Rami Abdel Rahman.
The case echoed that of a 14-year-old boy executed by ISIS fighters in the main northern city of Aleppo who accused him of blasphemy for using a colloquial phrase.
Rahman said mainstream rebels appeared set for a new confrontation with their jihadist rivals in Idlib after ISIS demanded that all other groups surrender their weapons.
Nizar, an activist from the eastern province of Deir Ezzor, said: "Time is running out for all these (jihadist) groups.
"They use violence and religion to try control us and, although people are afraid to openly express their dissent, no one wants them."