Syria forces blast sites of alleged chemical attacks: NGO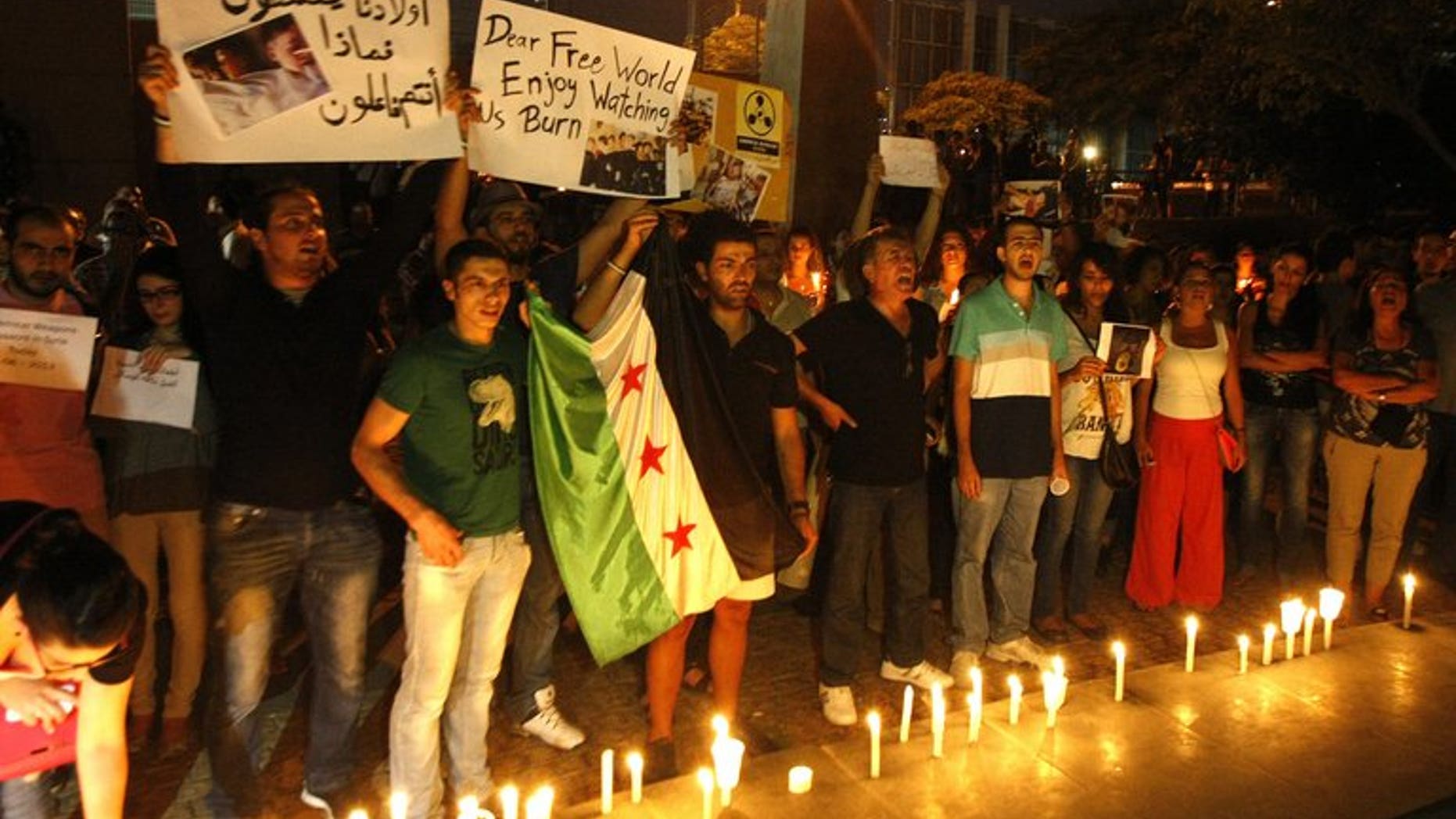 BEIRUT (AFP) – Syrian forces blasted rebel zones near Damascus on Thursday, including areas where the opposition alleged loyalists had launched a chemical weapons attack a day earlier, a monitoring group said.
The air raids and shellings appear to be part of an all-out army offensive to rout rebels from strategic points surrounding the capital, activists said.
"Warplanes carried out several raids this morning on Khan al-Sheikh and Zamalka, wounding several people" and sparking fierce clashes, said the Syrian Observatory for Human Rights.
It said that other areas around the capital were also subjected to aerial bombardments, including Moadamiyet al-Sham, Daraya and Irbin.
"Zamalka and Moadamiyet al-Sham were also heavily shelled," it added.
Zamalka, east of Damascus and Moadamiyet al-Sham in the southwest, have long been out of army control and were among the targets of an alleged chemical attack by the army on Wednesday.
The main Syrian opposition group claims as many as 1,300 people were killed in the attack. The government has strongly denied using chemical weapons, while UN Security Council members are seeking "clarity" on the allegations.
Abu Jihad, an activist east of Damascus, meanwhile told AFP via the Internet that a dramatic escalation of bombardments since Wednesday appeared to be linked to a bid by the army to reclaim rebel areas near the capital.
"They (the army) stormed the Ghouta (suburbs) area" on Wednesday, said Abu Jihad.
"They broke in through Irbin, Harasta, Jubar, Zamalka and Ain Terma," said the activist, mentioning areas where chemical attacks were alleged to also have taken place on Wednesday.
"Of course they haven't taken control, because they can't take control overnight, but they have take control of some strategic points," said Abu Jihad, adding that rebels are fighting back.
Rebels turned several key towns and villages in the Eastern Ghouta area and in a strip southwest of Damascus into strongholds more than a year ago and have since then defied efforts by the army to drive them out.
More than 100,000 people have died in Syria's war, the UN says.