Syria central bank lifts dollar sale restrictions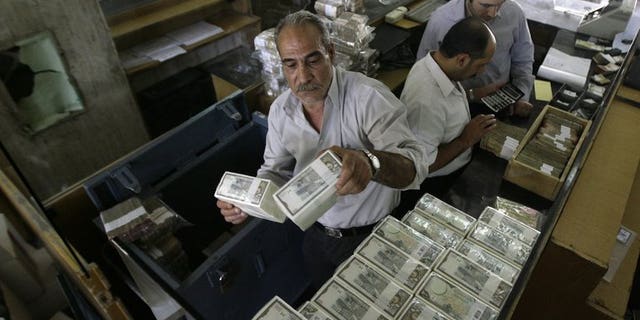 DAMASCUS (AFP) – The central bank in war-torn Syria has lifted restrictions on the sale of dollars to individuals, state news agency SANA said Wednesday, in a bid to curb black market trade.
"Citizens may purchase foreign currency at banks, for non-commercial purposes, according to the rates fixed by the central bank," the bank's governor Adib Mayaleh said, quoted by SANA.
Allowing banks to sell foreign currency was part of "efforts by the central bank in the domestic market to stabilise the price of the Syrian pound and stop speculation on the exchange rate.
"The central bank will continue to finance imports of basic goods through banks operating in Syria at preferential rates," said Mayaleh.
The agency said the central bank had sold dollars to 10 private banking institutions at the rate of 173.27 Syrian pounds to the dollar "to cover the needs of the local market between August 13-19".
Before Syria's bloody uprising erupted, the exchange rate was about 50 pounds to the greenback.
The rate is now about 200 to the dollar on the black market, and has climbed as high as 300 pounds in the 29 months of fighting in the country.
Before the war began, Syrians could exchange $5,000 a year, but that was reduced to just $500 at the end of 2011, pushing many to turn to the black market to convert their rapidly depreciating funds.
Syria has also banned the use of foreign currency in commercial enterprise, in a bid to halt the slide of the Syrian pound.
The United Nations says more than 100,000 people have been killed in Syria since the revolt broke in mid-March 2011, devastating the country's economy.