Syria activists say government forces using barrel bombs to flatten areas in advance in Aleppo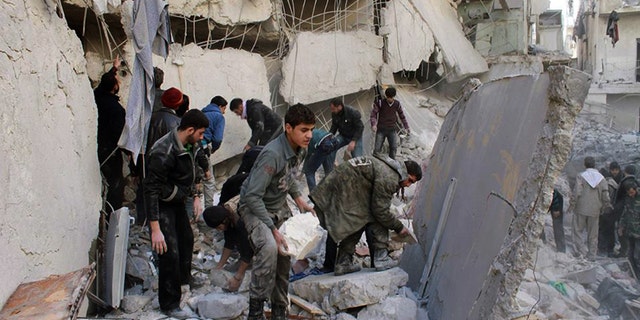 BEIRUT – Syrian activists say that government forces have killed at least six people with barrel bombs dropped by helicopter onto rebel-held areas of the northern city of Aleppo.
Hassoun Abu Faisal of the Aleppo Media Center and another local activist, Ahmad al-Ahmad, said Saturday's attack targeted the al-Bab area of the city. Abu Faisal said the explosions smashed buildings and set at least 10 cars alight. Those killed included civilians who were trying to flee the area by car after hearing the approaching helicopters.
Syrian government forces have been intensely shelling Aleppo and its surroundings for several weeks as they advance on areas held by rebels.
Abu Faisal said the shelling appeared intended to flatten buildings and force civilians to flee while allowing ground forces easier entry into rebel-held areas.