Swiss police say dozens injured in head-on train collision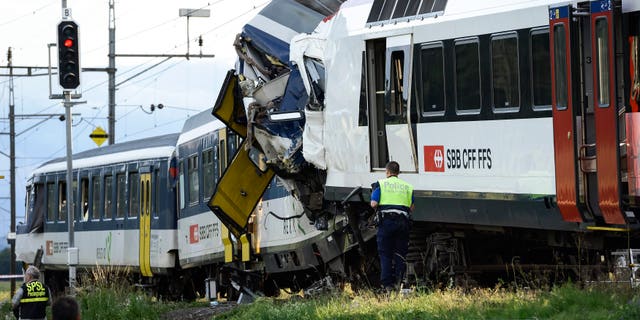 GENEVA – At least 44 people were injured, four of them seriously, in a head-on collision of two trains in western Switzerland late Monday, Swiss television reported, citing police.
Public TV station SRF quoted Vaud canton (state) police spokesman Pierre-Olivier Gaudard as saying that one person had yet to be recovered from the wreckage.
News website 20min.ch quoted Patricia Claivaz of the Swiss rail company CFF as saying the trapped man, a driver of one of the trains, had been located. It was unclear if he was alive.
Neither the police nor the rail company could immediately be reached for comment.
The crash happened near the station of Granges-pres-Marnand shortly before 7 p.m.(GMT) on a regional line about 31 miles southwest of the capital, Bern.
Photographs from the site showed the two regional trains locked together, partly lifted off the tracks by the force of the collision.
Earlier this month, 79 people were killed in a high-speed derailment in Spain.