Sweden may question WikiLeaks founder Assange at Ecuadorean embassy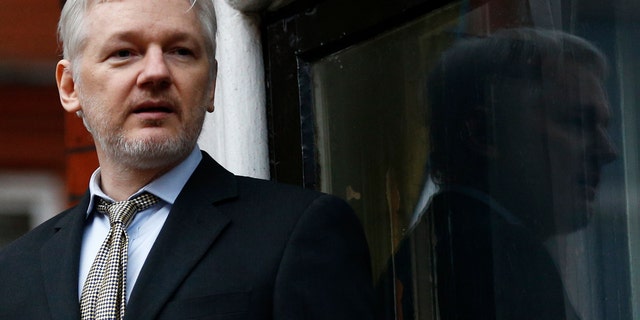 NEWYou can now listen to Fox News articles!
The Swedish prosecutor investigating rape allegations against WikiLeaks founder Julian Assange says she is planning to interview him at the Ecuadorian embassy in London, The Guardian reports.
Marianne Ny's announcement comes one week after a United Nations report found Assange's stay at the embassy -- which he entered voluntarily in June 2012 to avoid extradition to Sweden over the charges -- constitutes arbitrary detention. The report concluded Assange, 44, should be set free and compensated for lost time.
But Ny says the panel's report "does not change my earlier assessment in the preliminary investigation," The Guardian reports.
One woman said Assange intentionally damaged a condom and pinned her down while having sex. A second woman said Assange had sex with her without a condom while she was asleep. In Sweden, having sex with an unconscious, drunk or sleeping person can lead to a rape conviction punishable by up to six years in prison.
When prosecutors moved to question Assange about the women's allegations, they sought an international arrest warrant issued in November, 2010.
Assange surrendered and was detained and placed under house arrest. He later lost a series of legal attempts to block extradition.
Faced with the decision to either return to Sweden to answer questions or take radical action to avoid it, Assange chose the latter.
On June 19, 2012, he walked into the Embassy of Ecuador in central London to seek asylum. He's been there ever since in a prolonged state of legal limbo.
The sex crime allegations against Assange, which he denies, came at the height of his fame as the founder of WikiLeaks, an organization that had made a name for itself by releasing hundreds of thousands of pages of classified government documents.
He had challenged, and embarrassed, U.S. officials with his disclosures, and insists the sex crimes charges are part of a larger conspiracy to land him in a federal U.S. prison over his work.
U.S. officials have not revealed whether there is a secret indictment of Assange in U.S. courts, but in 2015, U.S. government representatives reiterated that a "sensitive" law enforcement investigation into WikiLeaks is ongoing.
The Associated Press contributed to this report.