SUV plows into pedestrians in Australia in 'deliberate act'; two in custody
A driver of Afghan descent accused of plowing a white SUV into a crowd of pedestrians Thursday in Melbourne, Australia, injuring at least 14 people in a "deliberate act" has a history of drug use and mental illness and was known to police "on historical assault matters," police said.
Two men, including the 32-year-old driver, were taken into custody, police said. The Afghan driver was an Australian citizen. Authorities said there was no evidence or intelligence to indicate that the incident was terror related, but they believe the driver carried out the act deliberately.
"We don't at this time have any evidence or any intelligence to indicate there's a connection with terrorism," said Victoria state police acting commissioner Shane Patton.
The second man arrested at the scene was filming the attack. He had three knives in his bag -- although police believe he is not connected to the attack, Sky News reported.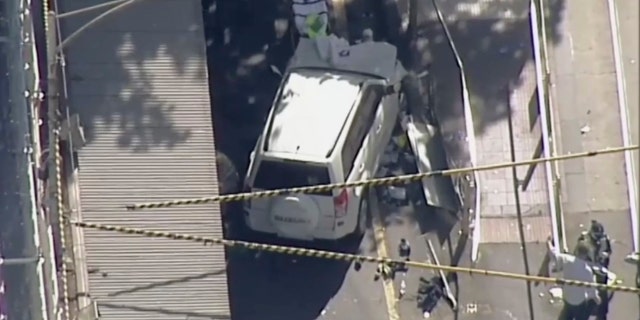 Mass chaos ensued when a white Suzuki SUV red a ran red light and sped down a crowded street outside Flinders Street train station just after 4:30 p.m. Thursday, causing pedestrians to be "thrown like rag dolls," witnesses described to news.com.au. Within 15 seconds, some people were seen "flying into the air" while others sprinted away to dodge the vehicle.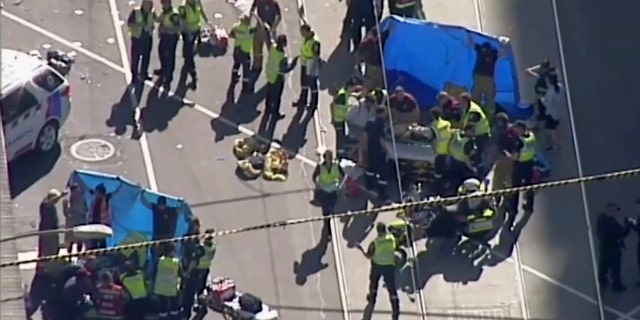 "I was crossing Flinders Street on the way to the train station. I heard an engine rev behind me and heard a thump," one man identified only as David said on ABC TV. He said he turned around saw "people literally getting thrown into the air as it hit them."
"Witnesses seemed to response well, as well as police... I can't understand how someone isn't dead. There was speed involved," a Melbourne resident told Fox News.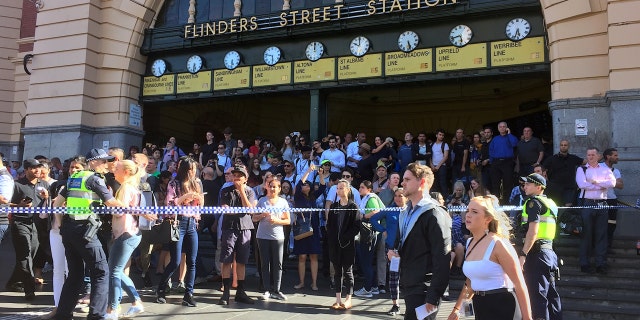 Acting police chief commissioner Shane Patton said the driver was alone in the vehicle and accelerated along tram tracks near the Flinders Street station, Sky News Australia reported.
At least 19 people were injured. Several of the injured were taken to a hospital and at least two were in critical condition, including a pre-school-aged child with head injuries.
Prime Minister Malcolm Turnbull sent a tweet calling the incident "shocking" and said his thoughts and prayers were with the victims and those treating them.
It is the second time this year that Melbourne, regularly ranked one of the world's most livable cities, has been traumatized by a car attack.
The attack took place at a crowded intersection in Australia's second-largest city, which was packed with holiday shoppers.
The Associated Press contributed to this report.