Suspects in 'Mission: Impossible'-style chase across Gulf of Mexico held on $1.25M bail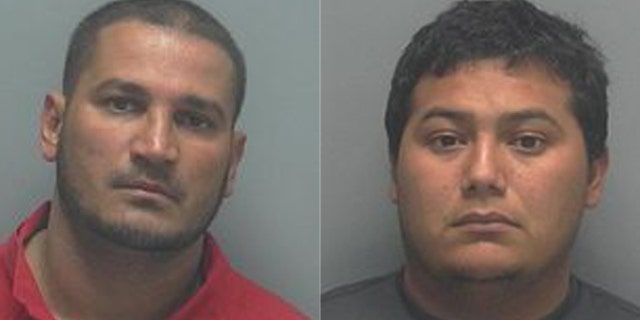 Three suspects who led local and federal authorities on a 20-hour chase across the Gulf of Mexico are being held in Florida on $1.25 million bail apiece.
The Coast Guard returned the stolen vessel and three suspects in handcuffs to shore Sunday. Coast Guard officials told the News-Press that the suspects include a Mexican national and two permanent, legal U.S. residents.
David Llanes Vasquez, 33, of Miami, and Vidal Farfan-Ramírez, 23, of Mexico, and Raul De La Vega Sauri, 25, of Homestead, were all arrested on multiple charges. Vasquez faces 19 charges including burglary, assault, larceny, fleeing police, leaving the scene of an accident and reckless pollution, while Farfan-Ramírez and Sauri face larceny and burglary charges when they have their hearings on Jan. 25.
The Naples Daily News reported that each requested the appointment of a public defender at their first court appearance Monday.
The Lee County Sheriff's Office was conducting overnight patrols targeting boat thefts when they were alerted to a theft in progress early Thursday in Fort Myers Beach.
When officers arrived, the suspects allegedly attempted to ram their vessel with the stolen boat. The ensuing open-water chase covered over 345 miles before it ended about 125 miles east of Cancún, Mexico, and about 65 miles west of Cuba.
"It was like something out of a James Bond or Mission Impossible movie," Lee County Sheriff Mike Scott told the News-Press.
The Associated Press contributed to this report.
Like us on Facebook
Follow us on Twitter & Instagram