Suspected serial killer who burned homeless men alive could face death penalty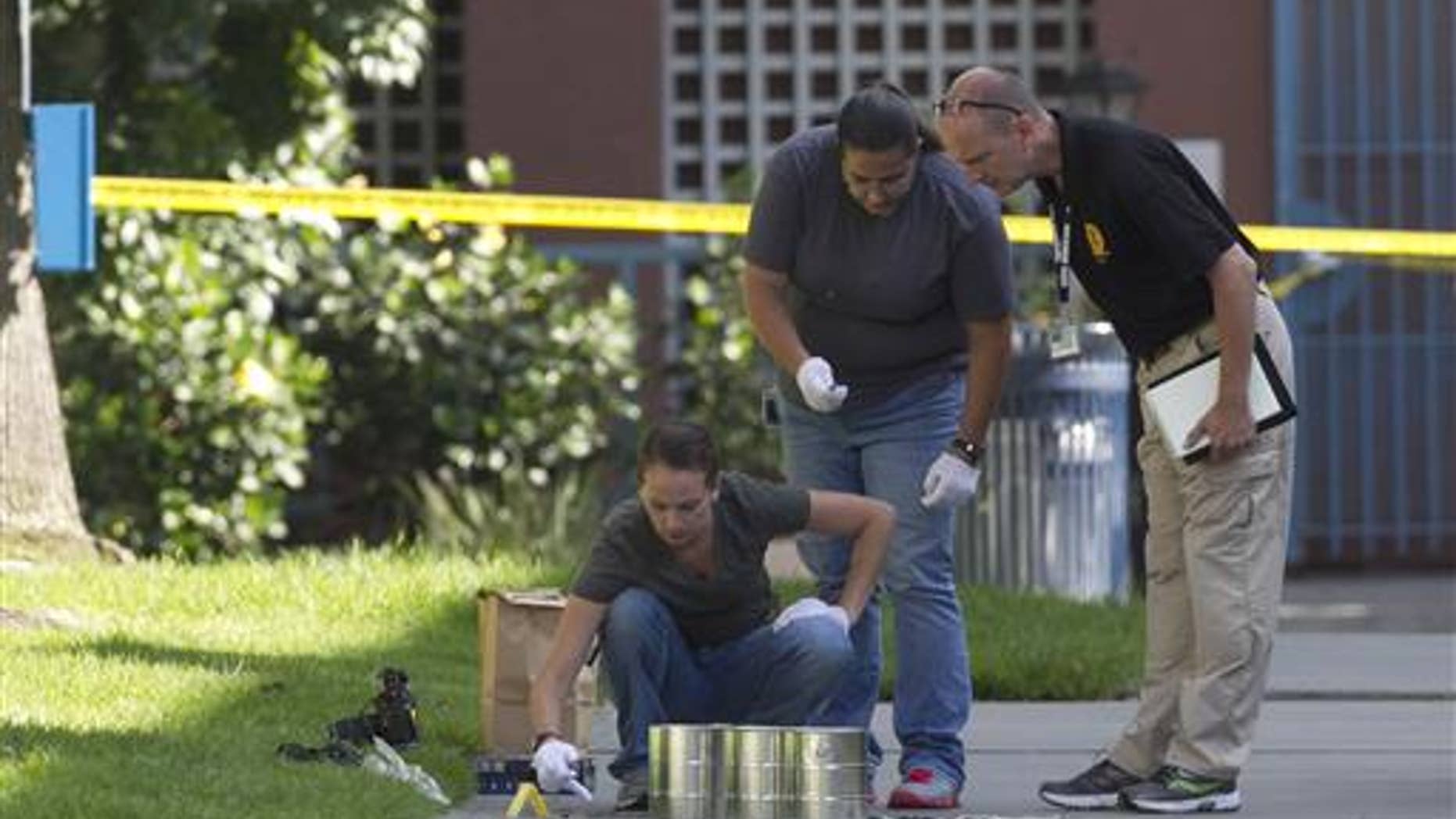 He grew up in a wealthy California community but fell on hard times and ended up nearly homeless.
Now Jon David Guerrero, 39, is accused of terrorizing San Diego's homeless community. Police say he's a serial killer who targeted people living on the street.
This week, Guerrero, 39, was charged with three counts of murder and two counts of pre-meditated murder. He could face the death penalty, if convicted, Deputy District Attorney Makenzie Harvey told Fox News Latino.
Guerrero has not entered a plea.
The arrest is a welcome relief for San Diego's homeless community, which has been plagued by the serial attacks since the July 4th holiday weekend.
"The majority of people were frightened and taking precautions to protect themselves," Michael McConnell, a homeless advocate, told Fox News Latino.
Over 5,000 people live on the streets in San Diego, more than half of those live in their cars or in shelters.
Guerrero was arrested around 6 a.m. six am on July 15, shortly after police heard that a fifth un-named transient was attacked under a freeway bridge.
The man was found with 'severe trauma' to his upper body that matched the other four victims.
Police picked up Guerrero riding a bike about two miles from the scene of the crime and evidence at the scene and in his downtown San Diego residence linked him to the crimes, police reports say.
Although Guerrero grew up in the wealthy community of Coronado, known for its palatial mansions and expensive real estate, at the time of his arrest he was living in Alpha Square, an apartment complex for homeless and very low-income residents in downtown San Diego.
President of Alpha Project Bob McElroy told NBC7 that he'd met Guerrero and described him as a well-mannered, quiet loner. According to public records obtained by the Los Angeles Times, Guerrero has an extensive history of criminal cases in San Diego, dating from 1999 to 2009, and several mental health cases filed in 2008, 2009 and 2011. He was arrested in 2007 and pleaded guilty in 2008 to charges of burglary, grand theft and possession of marijuana and narcotics paraphernalia.
The Los Angeles Times reported that Guerrero's mother, Kathleen, wrote a number of letters to the court on her son's behalf, seeking psychiatric treatment for him in jail.
Guerrero has been diagnosed with schizophrenia and was sent to a state hospital for treatment, according to court records.
"San Diego deserves to know the truth and the whole story in this case, and this story begins before July 3 — years before the first loss of life in this case," Tandon said in a statement during Guerrero's arraignment. "We've already seen there are many twists and turns that a case like this can take."
No information about motive or weapons used in the case has been released.
The horrific series of violent acts began on July 3 when 53-year-old Angelo De Nardo was beaten and set on fire, and his body was discovered between an interstate and some train tracks. De Nardo was dead before his body was set on fire.
A nearby Shell gas station a couple of blocks away from where Nardo's body was found videotaped the suspected killer buying a gas can, a gallon of gasoline, a Bic lighter and chewing gum.
On July 4, Shawn Mitchell Longley, 41 was discovered dead in a park, and Manuel Mason, 61, was found seriously wounded the same day.
According to the San Diego Union-Tribune, on July 6 witnesses heard a loud pounding and saw a man wearing a grey hoodie set another man on fire in a grassy area along a walkway between two condominium complexes in downtown San Diego. Police investigators reported that a towel was set ablaze on top of a seriously injured 23-year-old Dionicio Derek Vahidy. A witness attempted to pull the towel away before the victim was burned, but Vahidy died of his injuries.
The most recent attack happened within earshot of two San Diego police officers. The Harbor Police officers heard someone yelling for help and pulled their patrol car over to find a 55-year-old homeless man suffering from extreme trauma to his upper body.
San Diego Councilmember Todd Gloria, chair of the Regional of Continuum Care Council, issued a statement about the killings saying, "I am hopeful that these senseless and cowardly attacks on some of our city's most vulnerable neighbors will now come to a definitive end."
"No community should ever be serially terrorized or forced to live in fear, and I have the utmost confidence that our police department will continue to ensure that all residents and all communities remain safe and that the District Attorney's Office will prosecute to the fullest extent."
San Diego City and County together have the 4th largest number of homeless people in the U.S., following New York, Los Angeles, and Seattle.
"There's a growing animosity toward the homeless in San Diego. I can't say if these killing were fueled by that, but the city is creating it and it's not good," McConnell told FNL. "This isn't the first serious assault against homeless people. But, this whole situation has tightened the bonds of people on the streets."