Suspected Greek neo-Nazi killer appears in court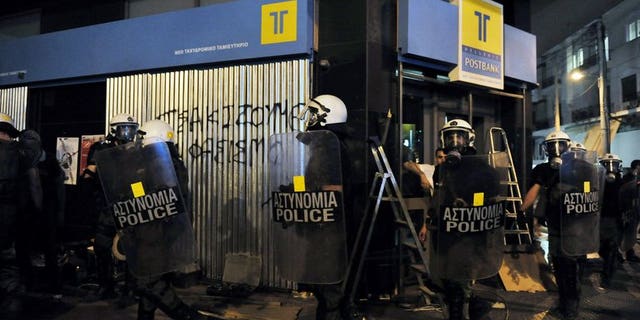 ATHENS (AFP) – The suspected killer of an anti-fascist musician, whose stabbing sparked nationwide protests and raised social tensions in the debt-wracked country, appeared in court on Saturday under heavy security.
Truck driver George Roupakias, 45, who has allegedly confessed his affiliation to neo-Nazi party Golden Dawn, arrived at the court in Piraeus, near Athens, wearing a purple t-shirt and a bullet-proof vest.
His appearance before an investigating judge took place under a heavy blanket of security, with police and special forces surrounding the court.
Roupakias is suspected of the fatal stabbing of 34-year-old hip hop artist Pavlos Fyssas, also known as Killah P, in the working-class Athens district of Keratsini early on Wednesday.
Police say he admitted to the crime shortly after he was arrested.
Golden Dawn quickly denied links with the alleged killer, but pictures soon surfaced of Roupakias participating in party activities and members of his family reportedly worked for the organisation.
The authorities are now bringing the full force of the law against the party and on Wednesday Prime Minister Antonis Samaras said he would not allow Golden Dawn to "poison" society and "undermine" democracy.
On Friday, Citizen's Protection Minister Nikos Dendias handed the investigation of alleged Golden Dawn crimes to the nation's elite anti-terrorism squad.
Capitalising on rising social tensions in crisis-hit Greece, Golden Dawn was first elected to parliament in 2012 with nearly seven percent of the vote, winning 18 seats out of an overall 300.
Thousands took to the street this week to protest against far-right extremism, while police clashed with protesters in cities across the country late on Wednesday.
More anti-fascist protests are planned for Saturday.