Suspect in Texas double homicide had been deported 3 times to Mexico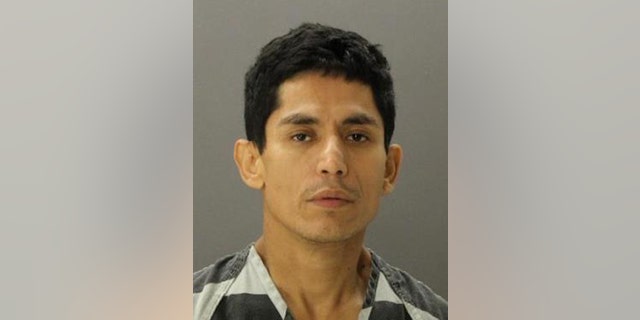 NEWYou can now listen to Fox News articles!
A man who allegedly killed two people and kidnapped a third one over the weekend in the Dallas area was living in the United States illegally under a false name and had been deported three times to Mexico in the last two decades, immigration officials said on Wednesday.
The 40-year-old man is suspected of killing a motorist in Dallas and a man at a gas station in nearby Cedar Hill. He allegedly also kidnapped a landscape worker in Austin.
Dallas County jail officials discovered the suspect initially identified as Silvestre Franco-Luviano was actually Juan Navarro Rios. However, a sheriff's spokesperson later said he used at least eight aliases.
"This is an example of the worst of the worst that we go after on a daily basis," Hector Gomez, supervisory deputy marshal of the Lone Star Fugitive Task Force, told the Dallas Morning News.
Police have not released a motive for either slaying, both of which occurred on Sunday night.
Navarro was arrested Tuesday after a standoff at his relatives' apartment in Georgetown, about 25 miles north of Austin. Police said he was caught after he set fire to part of the building.
Criminal records had identified Navarro Rios over the years by some variation of Silvestre Franco-Luviano. He was initially deported in June 1996 for a felony conviction, U.S. Immigration and Customs Enforcement spokesman Carl Rusnok said Wednesday.
ICE declined to say what the felony conviction was, but court records show the Mexican national had a 1995 assault conviction in Dallas and a 1996 conviction for hindering prosecution. Those records don't provide details of the allegations.
Navarro Rios returned to the U.S. at some point and was again deported in October 2009 for re-entering by falsely claiming U.S. citizenship, Rusnok said. He again came back into the U.S. and was prosecuted on vehicle burglary charges in the Texas city of Georgetown in 2010 and 2011. He was deported in March 2014 after completing a prison sentence for re-entry after deportation, according to a statement Wednesday from ICE.
Navarro was transferred Wednesday from the Williamson County jail to the Dallas County jail after his arrest on a murder warrant in the death of Ruben Moreno, who was in his car when he was shot. He's also a suspect in the death of Welton Betts. Georgetown police also have charged him with vehicle burglary.
Jail records do not list an attorney for Navarro Rios who could comment on the allegations. ICE placed an immigration detainer on him immediately after his arrest, meaning the agency is asking that he not be released.
Based on reporting by The Associated Press.
Like us on Facebook
Follow us on Twitter & Instagram