Supporters urge Egypt general to run for president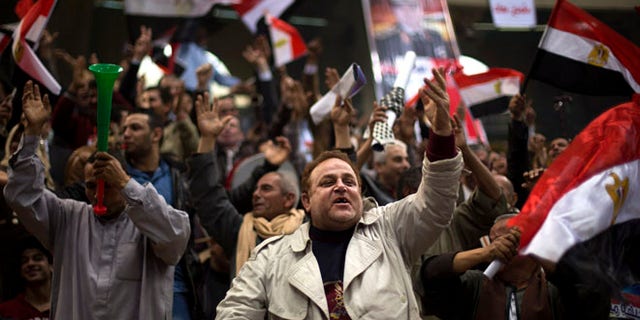 NEWYou can now listen to Fox News articles!
CAIRO – Thousands of supporters of Egypt's powerful army chief rallied in a Cairo stadium on Tuesday, urging him to run for president and saying the third anniversary of the country's uprising should be used as an occasion to thank him and security forces for overthrowing the former Islamist president.
The former security officers and army loyalists organizing the campaign, called "complete your good deed," aim to boost popular support for Defense Minister Gen. Abdel-Fatah el-Sissi, the man who removed President Mohammed Morsi from power in a July 3 coup.
The general has yet to announce his intentions. A referendum that last week approved the country's new constitution saw an unexpectedly modest turnout, denying him the robust popular mandate he allegedly sought as a rationale to make a run for office.
"At the top of our priorities is to choose a nationalist leader," former Interior Minister Ahmed Gamal Eddin told the crowd at Cairo Stadium, where banners read: "Egypt calls upon you."
Standing next to him on the tribune, Coptic Priest Bolous Awida described el-Sissi as "the soaring eagle" and led chants of "El-Sissi is my president." Further down, former grand Imam Ali Gomaa said: "The army, the police and Egypt order you to complete your good deed."
Parliamentary and presidential elections are the next step of the military-backed transition plan, introduced by interim authorities upon Morsi's ouster after millions of demonstrators demanded he step down for alleged abuse of power and subservience to his Muslim Brotherhood group.
Some 98 percent of voters endorsed the draft constitution, drawn up by a panel of mostly secular-minded politicians and experts after the military suspended the Morsi-era 2012 charter during the coup. But turnout was only 39 percent.
Interim President Adly Mansour will decide whether Egyptians vote first for their president or for parliament.
The push for el-Sissi to run comes as the Brotherhood calls for mass protests to mark Jan. 25, 2011, the first day of an 18-day uprising that forced longtime autocrat Hosni Mubarak to step down.
Liberal and secular-minded activists have also made similar calls but said they will not join forces with rival Islamists in their rallies.
Demonstrators originally chose the Jan. 25 date because it was a national holiday honoring the notorious security forces and they wanted to defy them on the same day. The day then became a national holiday to mark the rebellion against authorities.
On Tuesday however, former interior minister Gamal Eddin called upon el-Sissi supporters at the rally to revert the holiday to its original meaning, celebrating the police.
The move stoked the ire of pro-democracy advocates, already facing a campaign of intimidation and attacks by much of the Egyptian media, which portrays them as traitors and foreign agents.
Four of the country's most well-known bloggers and activists have already been either detained or imprisoned on charges of inciting violence in relation to street demonstrations after a newly passed ban on protests without permits.
In anticipation of unrest, the Interior Ministry has said it will deploy some 400,000 security forces to prevent any act of violence, and that police stations will be guarded with heavy weapons.
The Brotherhood and its supporters have held near daily protests since Morsi's ouster but over the past weeks, the cumulative weight of a tough security crackdown that killed hundreds and jailed top leaders has left the group deeply weakened.
The government confiscated assets of hundreds of the group's leaders and charities, and more recently labelled it a terrorist organization responsible for a string of assassinations, suicide bombings and attacks mostly on security forces. An al-Qaida inspired group, based in the Sinai Peninsula, has claimed responsibility for most of the violence, however.
Observers saw the label as the official end of any attempts at reconciliation between the current administration the Brotherhood.
But Mustafa Hegazi, the president's political adviser, told reporters on Tuesday that whoever is willing to join a state-led "inclusiveness process," could, if he repented and refrained from "acts of vandalism, arson, killings, and bombings."
The remarks came hours after a Cairo Appeals Court set Feb. 16 as the start date for one of four trials of Morsi and top Muslim Brotherhood leaders. This one is on charges of conspiring with militant groups such as Palestinian Hamas and Lebanese Hezbollah, as well as with Iran, to destabilize Egypt. Morsi is also accused of orchestrating an insurgency in the Sinai Peninsula to avenge his ouster.
Morsi's supporters have called the conspiracy accusations implausible. The ousted president was most recently referred to court over insulting the judiciary. Charges in the other three trials, including inciting the killing of his opponents and organizing jailbreaks, carry the death penalty.
Of the four, only the one for incitement charges has started. It is to resume next month.
Morsi allies were also swept away in the crackdown.
On Monday, one of his top allies, an ultraconservative Islamist and former presidential hopeful Hazem Salah Abu-Ismail was sentenced to one year in prison for insulting the judiciary, during a trial in which he stood accused of allegedly trying to conceal that his mother was a U.S. citizen in order to qualify for his 2012 presidential bid.
Abu-Ismail had told judges: "The court is void ... This is not a real judiciary in the first place." His trial was held in a venue adjacent to Cairo's Tora prison where he and a large number of Brotherhood members are being held.