Suicide Bomber Kills 8 Tribesmen in Pakistan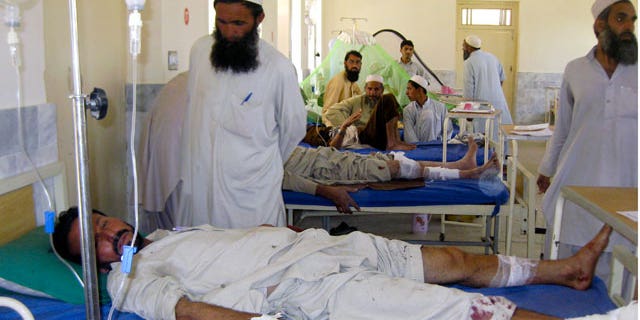 KHAR, Pakistan -- A suicide bomber targeted pro-government tribal elders in Pakistan's northwestern frontier Saturday, killing eight men, officials said, a day after U.S. Secretary of State Hillary Rodham Clinton during a visit here implored Pakistanis to take decisive steps to fight terrorism.
Eight men died and 10 were wounded when a bomb ripped through a restaurant at a market in the troubled Bajur tribal region, near the Afghan border, officials said.
Hours later, a government administrator, Shad Khan, said a man on foot carried out the attack.
"Now we have concluded that it was a suicide attack," he said.
Pakistani Taliban spokesman, Ahsanullah Ahsan, claimed responsibility, saying the elders were targeted because they were helping the security forces.
The latest attack underscored the militants' ability to strike at the tribesmen, who have often sided with government troops in efforts to rout insurgents.
It came a day after Clinton and Adm. Mike Mullen, chairman of the U.S. Joint Chiefs of Staff, made a seven-hour trip to Pakistan in a bid to repair ties damaged by the U.S. raid that killed Osama bin Laden, which Pakistanis say was an attack on its sovereignty.
On Saturday, Pakistan's Foreign Ministry spokeswoman Tahmina Janjua said Clinton's visit had helped clear up misunderstandings and that the two sides would cooperate on raids against terror suspects.
Her comments at a weekly news briefing came hours after the suicide attack in the village of Salarzai.
Bajur is considered a militant stronghold and violence has persisted there since last year, when the military claimed that it had defeated Taliban and al-Qaida militants after more than a year of fighting.