Sudanese Christian mom freed from death sentence leaves police station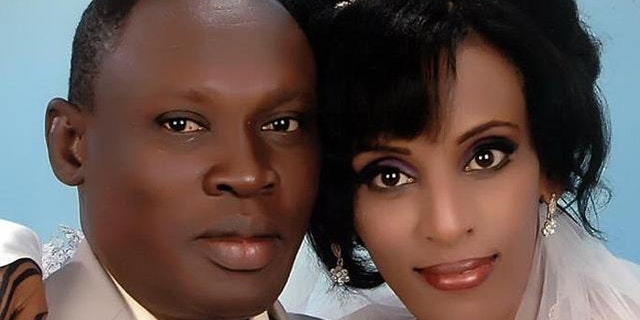 The Sudanese Christian woman who was detained by police a day after her death sentence was lifted is free once again.
Wearing a traditional white and green dress, Meriam Ibrahim, 27, walked out of a Khartoum police station carrying her newborn baby hours after lawyers said she was ordered released. Ibrahim and her husband, who is disabled and was seen being carried by two men, got into a vehicle with their other child and sped away, followed by police cars and two vehicles with diplomatic plates.
Ibrahim was detained at the airport in Khartoum Tuesday after Sudanese officials accused her of using falsified travel documents in a bid to go to South Sudan. The Sudanese newspaper Al Intibaha reported that Ibrahim's brother, Al Samani Al Hadi Mohamed Abdullah, told police she was being taken against her will and that her Muslim relatives were not told she had been freed.
"They did not let us know that she was about to be freed," he told the paper, according to a translation by the U.K.'s Daily Telegraph. "It was a surprise for us."
The U.S. State Department said in a statement Thursday afternoon that Ibrahim and her family were in a "safe location" and the government of Sudan has assured the United States of the family's "continued safety."
Ibrahim was detained with her husband, Daniel Wani, at Khartoum airport Tuesday, then taken to a police station where she was held for approximately 48 hours. The detention came after a flurry of diplomatic activity involving U.S. and Sudanese officials following a ruling lifting her death sentence. Wani is a U.S. citizen, and Ibrahim's supporters sought refugee status for her and recognition of U.S. citizenship for the couple's two children.
But when she was detained yet again, supporters feared the Islamist nation planned to punish her anew.
"The airport passport police arrested Abrar after she presented emergency travel documents issued by the South Sudanese Embassy and carrying an American visa," the Sudanese national security force wrote in a Facebook post, referring to Ibrahim by her Muslim family name. "The Sudanese authorities considered [the action] a criminal violation, and the Foreign Ministry summoned the American and South Sudanese ambassadors."
Supporters of Ibrahim say they won't feel she is safe until she is out of the war-torn nation.
"It has always been our concern that the only way the Ibrahim family could be truly safe is to leave Sudan," said Jordan Sekulow, executive director of the American Center for Law and Justice, which gathered more than 300,000 signatures for an online petition demanding Ibrahim's freedom.
Ibrahim refused to renounce her Christian faith in court in May, prompting a judge to sentence her to hang for apostasy. The case became an international cause, with several U.S. lawmakers and the State Department blasting the decision as barbaric. Sudan's national news service SUNA said the Court of Cassation in Khartoum on Monday canceled the death sentence after defense lawyers presented their case, and that the court ordered her release.
Ibrahim and Wani were married in a formal ceremony in 2011 and operate several businesses, including a farm, south of Khartoum, the country's capital.
Wani fled to the United States as a child to escape the civil war in southern Sudan, but later returned. He is not permitted to have custody of his son because the boy is considered Muslim and cannot be raised by a Christian man.
Ibrahim's case first came to the attention of authorities in August, after members of her father's family complained that she was born a Muslim but married a Christian man. The relatives claimed her birth name was "Afdal" before she changed it to Meriam and produced a document that indicated she was given a Muslim name at birth. Her attorney has alleged the document was a fake.
Ibrahim says her mother was an Ethiopian Christian and her father a Muslim who abandoned the family when she was a child. Ibrahim was initially charged with having illegitimate sex last year, but she remained free pending trial. She was later charged with apostasy and jailed in February after she declared in court that Christianity was the only religion she knew.
"I was never a Muslim," she told the Sudanese high court. "I was raised a Christian from the start."
Sudan's penal code criminalizes the conversion of Muslims to other religions, which is punishable by death. Muslim women in Sudan are further prohibited from marrying non-Muslims, although Muslim men are permitted to marry outside their faith. Children, by law, must follow their father's religion.