Students return to school hit hardest by S. Korea ferry disaster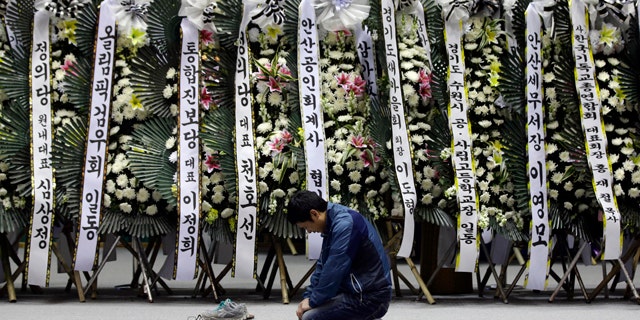 ANSAN, South Korea – Students in the city hit hardest by the South Korean ferry disaster returned to classes Thursday, their school campus a tragic landscape of yellow ribbons, chrysanthemums and photos of classmates and teachers who make up the vast majority of the more than 300 people feared dead.
Danwon High School was at times the site of even more direct grieving, as relatives in funeral processions visited their loved ones' classrooms before moving on to cremate the body. Education officials said the first two days of classes will focus on helping students cope with losses and trauma, with help from psychiatrists and professional counselors.
Nearby at Olympic Memorial Museum, a flower-strewn temporary memorial to the approximately 250 students dead or missing drew a stream of black-clad mourners.
"I am very sad, but at the same time, I also feel resentful and angry," said businessman Lee Dong-geun. When "I entered, I saw the faces of those students and could not fight back my tears."
So far 159 bodies have been pulled from the water, with 143 people still missing. Hundreds of divers are working to retrieve the remaining bodies.
The task is becoming more difficult because divers must now break through cabin walls to continue their search. Many of the bodies already retrieved were in a larger lounge area.
"The lounge is one big open space, so once in it we got our search done straight away. But in the case of the cabins, we will have to break down the walls in between because they are all compartments," said Koh Myung-seok, spokesman for the government-wide emergency task force.
Seniors' classes at Danwon began Thursday, and younger grades will begin next week, including the 13 juniors who did not go on the ferry. It's not clear when the 75 students who survived will return; most remain hospitalized, many for mental stress.
Lee Seung-min, an 18-year-old senior, said Wednesday that students are "constantly watching the news and crying, and going back and forth from the school, placing chrysanthemums and crying, and unable to do anything."
Notes and messages to missing teachers and students are posted on walls, stairs, doors and windows. Some left cookies, soda cans and bread on window panes. Inside a classroom, a few bouquets of white flowers were placed on empty desks.
"Our Jung-hoon is a nice kid," read one message, left on a door. "Please. Save him. If he won't come back, please send him to a good place."
Twenty-two of the 29 members of the ferry's crew survived, and 11, including Capt. Lee Joon-seok, have been arrested or detained in connection with the investigation.
Senior prosecutor Ahn Sang-don said an analysis of photos and video on the ship before its sinking showed the captain and other arrested crew members didn't rescue passengers, though it was their duty. Ahn said the crew members were at the ship's steering room or engine room together before fleeing the Sewol earlier than passengers.
The captain initially told passengers to stay in their cabins, and waited about half an hour to issue an evacuation order. He has said he waited because the current was strong, the water was cold and passengers could have drifted away before help arrived. But maritime experts said he could have ordered passengers to the deck — where they would have had a greater chance of survival — without telling them to abandon ship.
The cause of the disaster is not yet known. Ahn said investigators are considering factors including wind, ocean currents, freight, modifications made to the ship and the fact that it turned just before it began listing.
Tracking data show that the ship made a 45-degree turn, and that it turned about 180 degrees in the course of about three minutes around the time the vessel began to list.
A maritime professor who spoke with the Sewol's third mate, who is among those arrested and was steering the ferry before it sank, said he suspects a problem with the steering gear caused the sinking.
Professor Kim Woo-Sook of Mokpo National Maritime University said he spoke to Park Han-gyeol, a former student, at a Mokpo detention facility. He says she told him she ordered a helmsman to make just a 5-degree turn, but the steering gear turned too far and the helmsman could not turn it back.
Kim said the steering gear would not have been enough alone to capsize the ship, but he suspects it caused poorly secured freight to shift, making the vessel unbalanced. He said he told her he believes she didn't make any mistakes in steering the ship, but that was wrong to have followed the captain in escaping the ship without protecting the passengers.
Senior prosecutor Yang Jung-jin said government investigators have not confirmed problems in the steering gear of the Sewol.