Strikes Hit Qaddafi Forces Outside Besieged City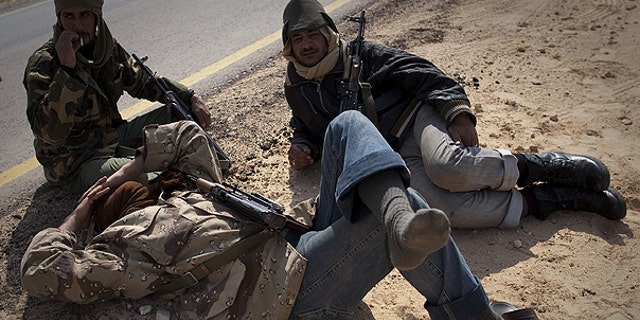 NEWYou can now listen to Fox News articles!
BENGHAZI, Libya – France declared Libya's airspace "under control" on Friday, after NATO agreed to take command of the no-fly zone in a compromise that appeared to set up dual command centers and possibly new confusion. Coalition warplanes struck Muammar Qaddafi's forces outside the strategic eastern gateway city of Ajdabiya.
The overnight French and British strikes on an artillery battery and armored vehicles were intended to give a measure of relief to Ajdabiya, where residents have fled more than a week of shelling and fighting between rebels and government troops. Explosions also could be heard in Tripoli, the Libyan capital, before daybreak Friday, apparently from airstrikes.
"Libyan airspace is under control, and we proved it yesterday, because a Libyan plane in the hands of pro-Qaddafi forces, which had just taken off from Misrata in order to bomb Misrata, was destroyed by a French Rafale," Adm. Edouard Guillaud said on France-Info radio.
But the compromise that puts NATO in charge of clearing the skies still leaves the U.S. responsible for the more difficult task of planning attacks on Qaddafi's ground forces and other targets.
Libya's government has taken part of its fight to the airwaves. On Thursday, state television aired pictures of bodies it said were victims of airstrikes, but a U.S. intelligence report bolstered rebel claims that Qaddafi's forces had simply taken bodies from a morgue.
International military support for the rebels is not open-ended: French Foreign Minister Alain Juppe on Thursday set a timeframe on the international action at days or weeks — not months.
Representatives for the regime and rebels were expected to attend an African Union meeting in Addis Ababa, Ethiopia, on Friday, according to U.N. Secretary-General Ban Ki-moon, who described it as a part of an effort to reach a cease-fire and political solution.
The U.S. has been trying to give up the lead role in the operation against Qaddafi's forces, and NATO agreed late Thursday to assume one element of it — control of the no-fly zone.
"Nearly all, some 75 percent of the combat air patrol missions in support of the no-fly zone, are now being executed by our coalition partners," Navy Vice Adm. William Gortney, told reporters at the Pentagon. Other countries were handling less than 10 percent of such missions, he said.
U.S. Secretary of State Hillary Rodham Clinton said the United Arab Emirates would deploy 12 planes for the coalition effort. Clinton thanked the U.A.E. for becoming the second Arab country after Qatar to send planes.
Qatar is expected to start flying air patrols over Libya by this weekend.
Libyan state television showed blackened and mangled bodies that it said were victims of airstrikes in Tripoli. Rebels have accused Qaddafi's forces of taking bodies from the morgue and pretending they were civilian casualties.
A U.S. intelligence report on Monday, the day after coalition missiles attacked Qaddafi's Bab al-Aziziya compound in the capital, said that a senior Qaddafi aide was told to take bodies from a morgue and place them at the scene of the bomb damage, to be displayed for visiting journalists. A senior U.S. defense official revealed the contents of the intelligence report on condition of anonymity because it was classified secret.
Ajdabiya has been under siege for more than a week, with the rebels holding the city center but facing relentless shelling from government troops positioned on the outskirts.
___
Associated Press writers Ben Hubbard and Maggie Michael in Cairo; Hadeel al-Shalchi in Tripoli, Libya; Jamey Keaten in Paris; Pauline Jelinek and Bob Burns in Washington; Nicole Winfield in Rome; and Martin Vogl in Bamako, Mali, contributed to this report.