Strauss pondering England chief role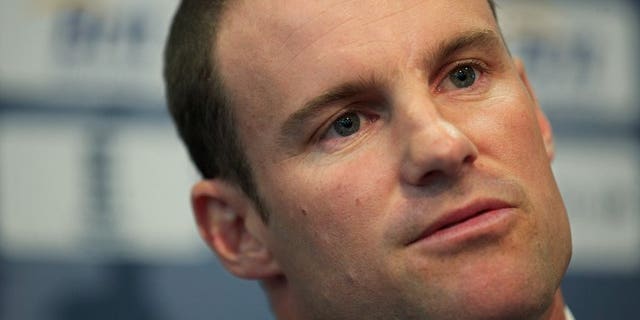 BIRMINGHAM, United Kingdom (AFP) – Andrew Strauss on Thursday said he will decide "in the next couple of weeks" whether he wants to apply for the post of the England and Wales Cricket Board's managing director of cricket.
The position, which carries responsibility for the overall running of England's national teams, is set to become vacant after incumbent Hugh Morris announced last month he would be stepping down to become the new chief executive and director of cricket at county side Glamorgan, which he captained as a player.
Former England captain Strauss, who retired from all senior cricket last year, was immediately touted as a possible successor by Morris, as was current England team director Andy Flower.
But while Flower has been steadfastly non-committal about replacing Morris as he prepares to take the Test side to Australia for their defence of the Ashes starting in November, Strauss -- who has been commentating for Sky television in recent months -- admitted he was interested in the role.
"I'm always looking for opportunities and I will continue doing so," Strauss told reporters at Edgbaston, where he was joining fellow ex-England captain Michael Vaughan on his 500-mile (805-kilometre) charity bike ride, "PruProtect Chance to Ride" in aid of Chance to Shine and the Laureus Sport for Good Foundation.
"I really enjoyed doing the Sky stuff, I'm very passionate about the game of cricket and want to contribute to it.
"In exactly what way that is, kind of remains to be seen a bit," added the 36-year-old former opening batsman Strauss, a veteran of exactly 100 Tests.
As for suggestions he might replace Morris, Strauss, twice an Ashes-winning captain, said: "They are just suggestions at the moment.
"There's obviously an application process for that MD (managing director) of England cricket job. No doubt there are going to be a lot of good candidates looking to do the job.
"For me, I haven't decided one way or another whether that's the right job or the right time for me yet. But I'm certainly looking at, as will a lot of other people be.
"One of the things you've got to be very careful with when jobs like these become available is to understand the actual job properly. I've obviously seen Hugh Morris do parts of his job but not the whole job.
"I'm looking into it but they're decisions that need to made over the next couple of weeks and I'll think quite long and hard about whether it's the right time and the right job for me."
Morris, when he stepped down on August 26, was in no doubt that both Strauss and Flower could fill his shoes.
"Both Andy Flower and Andrew Strauss are fantastic guys, I know them both well and I worked with them for a long time," Morris said.
"Whatever job either of them wants to do they will do very well, no doubt about it.
"If they fancied this job, or applied, either of them would be great but that is for others to decide."