Still no direct talks in DR Congo peace bid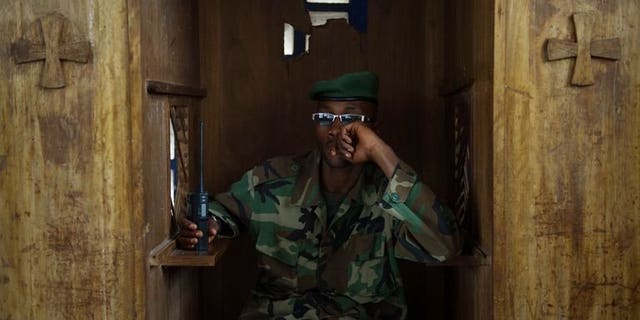 KAMPALA (AFP) – Mediators in peace talks between Democratic Republic of Congo's government and M23 rebels admitted Friday the sides were yet to negotiate face-to-face, but insisted that progress was still being made.
"Since Tuesday the mediator has been holding separate consultations with the respective delegations," Uganda's defence spokesman Paddy Ankunda told AFP.
Uganda's defence minister, Crispus Kiyonga, is chairing the talks at a lakeside resort near the capital Kampala.
Talks restarted Tuesday after they stalled in May, following an ultimatum that regional leaders issued after a recent upsurge in fighting in the resource-rich east of DR Congo.
Congolese troops backed by a special United Nations force launched a fresh assault against the M23 army mutineers late last month.
"The two sides don't talk to each other directly, they communicate through the mediator," M23 delegation leader Rene Abandi said.
Ugandan defence spokesman Ankunda added that the mediator "prefers to hold separate consultations with each group because that way consensus is built".
"Progress has been made and we hope next week they (parties and the mediator) will issue a joint communique on what they have so far achieved," he said.
The M23 was founded by former Tutsi rebels who were incorporated into the Congolese army under a 2009 peace deal.
Complaining the deal was never fully implemented, they mutinied in April 2012, turning their guns on their former comrades and launching the latest rebellion to ravage DR Congo's mineral-rich and conflict-prone east.
The UN and various rights groups have accused the M23 of atrocities including rape and murder in a conflict that has caused tens of thousands of refugees to flee.
The UN also accuses Rwanda of backing the M23, a charge the country has adamantly denied.
The rebels for their part have accused the Congolese army of joining forces against them with the Hutu FDLR, or Democratic Forces for the Liberation of Rwanda, which is also active in eastern DR Congo where its members fled in the wake of the 1994 genocide in Rwanda.