State Dept: No visas from fake American embassy in Ghana used to enter US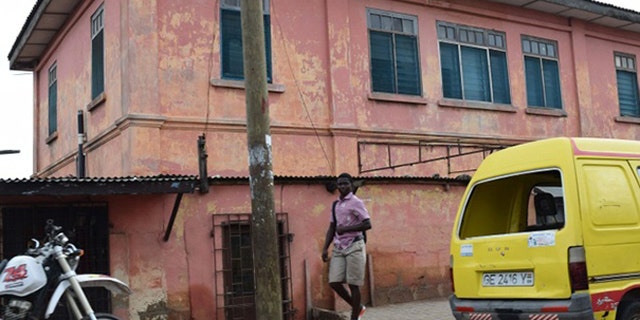 None of the altered visas issued at a fake U.S. embassy in West Africa for seven years appears to have been used to enter the United States, the State Department said Monday.
State Department spokesman John Kirby said the visas were created from bought, stolen or otherwise illegally obtained passports.
U.S. officials this summer discovered and shuttered the fake embassy in Accra, Ghana. However, news reports about the criminal operation began to appear only in the past several weeks, following a Nov. 2 posting on the State Department's website.
The embassy building flew a U.S. flag every morning for three days a week, and inside the building was a picture of President Obama.
The operation was purportedly run by Ghanaian and Turkish organized crime rings that "were able to pay off corrupt officials," the State Department said in November.
And those who posed as consulate employees were in fact Turkish citizens who spoke English and Dutch.
Responding to skeptical reporters' questions Monday, Kirby said those who bought the fake visas likely didn't try to enter the country with them or were stopped at the border because the visas were of "pretty poor quality."
He also said valid U.S. visas contain the kind of digital data that is nearly impossible to replicate.
A fake Netherlands embassy in Ghana also was shuttered in this summer's sting.
Kirby said Monday that he has no reports of other fake operations but that the joint task force that shuttered the fake embassies, Operation Spartan Vanguard, continues to look for them.
The task force is led by U.S. Diplomatic Services and includes Canadian embassy officials and local police.
Those who bought the fake visas paid as much as $6,000.
Kirby also said Monday that none of the fake visas was stolen from the real U.S. embassy in Ghana.
The raids led to the recovery of 150 passports from 10 countries and visas from the U.S., India, South Africa and the European Schengen zone.
Those involved in the scheme would drive "to the most remote parts of West Africa" to find visa applicants and transport them to Accra, the State Department said. They also used fliers and billboards to lure victims from Ghana, Ivory Coast and Togo.
Fox News' Lucas Tomlinson and The Associated Press contributed to this report.