Sri Lanka president summons Parliament amid political crisis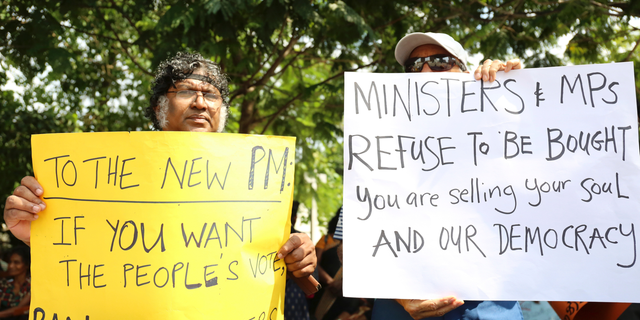 COLOMBO, Sri Lanka – Sri Lanka's president issued an order Sunday for Parliament to reconvene Nov. 14, when lawmakers will get the chance to hold a confidence vote on the nation's former strongman who has been named prime minister.
The announcement made in a decree comes amid a political crisis in the South Asian island nation sparked when President Maithripala Sirisena dismissed Prime Minister Ranil Wickremesinghe and his Cabinet and replaced him with Mahinda Rajapaksa last month.
Sirisena suspended Parliament in an apparent attempt to give Rajapaksa time to muster support to survive any no-confidence vote.
Political opponents, rights groups and foreign governments including the United States and European Union have urged Sirisena to summon Parliament immediately and end the crisis. Thousands of Sri Lankans also protested in the capital in the past week demanding Sirisena immediately convene Parliament.
Sirisena said he made the replacement in part because Wickremesinghe and a Cabinet colleague were behind an alleged assassination plot against him. Details of the alleged plot have not been disclosed and Wickremesinghe has repeatedly denied the accusation.
Sirisena's moves have triggered a power struggle that some observers have called a constitutional crisis.
Since his ouster, Wickremesinghe has stayed at Temple Trees, the official residence of the prime minister, insisting he is still the legitimate leader because he commands majority support in Parliament.
Wickremesinghe said in an interview with the AP that there is credible evidence that Rajapaksa's party is attempting to buy support in Parliament. Palitha Range Bandara, a United National Party lawmaker, has said that he was offered millions of dollars and a minister portfolio if he crossed over. Lawmakers from Rajapaksa's party have denied the allegations.
Tensions had been building between Sirisena and Wickremesinghe for some time, as the president did not approve of economic reforms introduced by the prime minister.
Sirisena was also critical of investigations into military personnel accused of human rights violations during Sri Lanka's long civil war, which ended in 2009. Rajapaksa is credited as a hero by Sri Lanka's ethnic Sinhalese majority for ending the conflict.