Spy Anna Chapman joins Putin's Russian youth group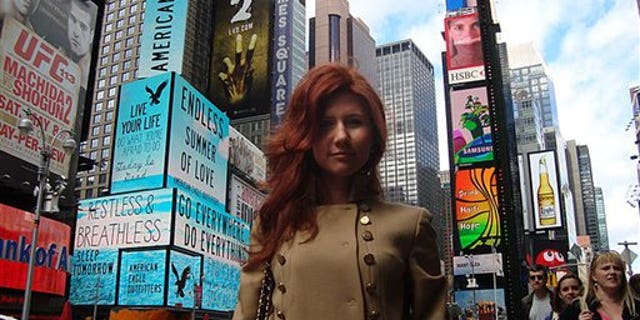 MOSCOW – Former spy Anna Chapman publicly reaffirmed her allegiance to Russia and Prime Minister Vladimir Putin on Wednesday by joining the youth wing of his United Russia party — as an issue Playboy magazine with nude pictures of her hit the newsstands.
Chapman was exposed in the United States along with nine other so-called sleeper agents in the biggest spy swap since the Cold War and deported back to Russia this summer.
Rather than recede into anonymity like the other agents, she has reveled in the fame, appearing at the launch of a Russian spacecraft and stripping to her underwear for a men's magazine, among other things. She also agreed to become the public face of a bank that serves the space industry.
At Wednesday's meeting of the Young Guards, the red-haired 28-year-old Chapman was in beauty pageant mode, even mouthing the kind of banalities usually saved for such occasions.
"Let's dream about the boldest things," said Chapman, wearing a red dress and heavy makeup, her flaming hair carefully styled. "Let's start changing the country by changing ourselves first.
"There would be less negativity in society if each of us woke up with a smile," she continued. "If each of us greets each day with joy, then you can create something new and useful."
Chapman later refused to answer questions about her duties at the Young Guards and left a press conference with her bodyguard. The youth group's leader, Timur Prokopenko, also could not specify her job, saying that she simply was "the heroine of her generation."
Chapman is "an example of unconditional patriotism," Young Guards spokesman Andrei Tatarinov said in a statement. "She is a good example for the new generation."
Chapman was the focus of a story in the January issue of Playboy that is accompanied by candid nude photos snapped by an ex-boyfriend, according to Playboy Enterprises spokeswoman Abi O'Donnell.
In two of the pictures, Chapman is shown without clothes — sitting in a bathtub and holding a glass of champagne while sitting in a chair, O'Donnell said.
The Young Guards is known for its anti-U.S. rhetoric and violent pranks against Kremlin critics.
It was among several youth groups formed in the mid-2000s to counter anti-Kremlin groups and prevent uprisings similar to the "color revolutions" in Georgia and Ukraine that brought pro-Western politicians to power.
The Young Guards staged mass rallies involving thousands of activists, including a 2006 demonstration dubbed "the world's Independence Day from America" that featured anti-U.S. posters and slogans accusing the White House of meddling in Russian politics with "guns and burgers."
A former Young Guards leader told the Associated Press in January that the group has hired soccer fans and neo-Nazis to assault opposition leaders.
In recent months, the group has been roiled by widely publicized scandals and reprimands from its Kremlin mentors.
One of its leaders resigned after faking photos of himself helping extinguish forest fires around Moscow this summer. The group also called for action against a journalist who challenged government policies. The journalist, Oleg Kashin, was later brutally beaten by unidentified assailants and remains hospitalized.
----------
Associated Press reporter Sophia Tareen contributed to this story from Chicago, Il.